PayPal is a form of electronic storage for your cash. Add or remove funds to or from your normal bank account into your digital PayPal wallet and use these funds to pay for things online as you would do usually with your bank card.
PayPal can be used to deposit into UK online betting accounts in countries anywhere where online gambling is regulated.
Betfred - Best PayPal Betting Site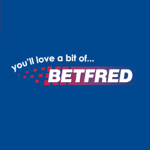 PayPal is a more expensive option for betting companies due to higher fees, which is why less offer it compared to other methods and with most operators tbe minimum deposit is £10+. Betfred stand-out among online bookmakers when it comes to betting with PayPal for a number of reasons, but one of the main benefits is the £5.50 minimum deposit level, lower than almost every other brand.
Withdrawals also start at just £5 and can be made up to £5000 in a single transaction, again better than most of their competition. Betfred have been in the business a long time and have a good grip on what customers want from a betting company, this is evident when you look at their PayPal limits.
Deposits are instant and withdrawals take up to 48 hours, this is mainly due to processing time for Betfred, you will find in many cases withdrawals happen much quicker than this. With Betfred having high street shops too it means you can bet through PayPal and withdraw in cash from an online funded account in their shops if you wish.
Online Bookmakers That Accept PayPal
18+. Play responsibly, BeGambleAware, for help quitting visit
Gamstop
. #ad.
| | Site | Min Deposit | Min Withdraw | Fees | Withdrawal Time | Visit |
| --- | --- | --- | --- | --- | --- | --- |
| | Betfred | £5 | £5 | - | Up To 48hrs | T&Cs Apply, 18+ |
| | All British Sports | £10 | £10 | 0% | 24 Hours | |
| | Parimatch | £5 | £10 | - | 1-3 Days | T&Cs Apply, 18+ |
| | 10bet | £10 | £1 | - | 1-2 Business Days | T&Cs Apply, 18+ |
| | Virgin Bet | £10 | £10 | - | 24 Hours | T&Cs Apply, 18+ |
| | Mr.Play | £10 | £10 | - | Up To 2 Days | T&Cs Apply, 18+ |
| | Kwiff | £10 | £10 | - | Instant | T&Cs Apply, 18+ |
| | Unibet | £10 | £10 | - | Up To 12 Hours | T&Cs Apply, 18+ |
| | LiveScore Bet | £10 | £10 | - | 24 Hours | T&Cs Apply, 18+ |
| | Smarkets | £20 | £10 | - | 24-48 Hours | T&Cs Apply, 18+ |
| | Party Casino | £10 | £10 | - | Up to 24 Hours | T&Cs Apply, 18+ |
| | Vbet | £5 | £1 | - | 2-3 Days | T&Cs Apply, 18+ |
| | William Hill | £10 | £10 | - | Up To 24hrs | |
| | Grosvenor Sports | £10 | £5 | - | 24 Hours | T&Cs Apply, 18+ |
| | Luckster | £10 | £10 | - | Up To 3 Days | T&Cs Apply, 18+ |
| | Ladbrokes | £10 | £5 | - | Up to 6hrs | T&Cs Apply, 18+ |
| | Coral | £10 | £5 | - | 8 Hours | T&Cs Apply, 18+ |
| | NetBet | £10 | £10 | - | Up to 5 Days | T&Cs Apply, 18+ |
| | BETDAQ | £10 | £10 | - | Up To 24 Hours | T&Cs Apply, 18+ |
| | LeoVegas Sports | £10 | £10 | - | Up to 5 days | |
| | Boylesports | £5 | £5 | - | Up To 24 Hours | T&Cs Apply, 18+ |
| | 32Red Sports | £10 | £10 | - | 2-3 Days | T&Cs Apply, 18+ |
Why Use PayPal For Deposits And Withdrawals?
By loading funds from your existing conventional checking account you can deposit and withdraw without needing to carry various cards and passwords around with you. Through PayPal you can send and receive money with many UK online betting sites offering a convenient and easy to manage your betting. Most of the bigger UK bookmakers accept PayPal with similar deposit and withdrawal limits and rules to conventional debit card transactions.
Using an electronic wallet service like this comes with several advantages. Funds clear more rapidly with PayPal than through standard banking meaning you can use your money within 24 hours of making a withdrawal and quite often this can occur within several hours. You would still need to withdraw from PayPal back to your bank account for full access to your cash and this will take 2-5 working days due to normal banking procedure. PayPal also offers some added security by not requiring you to constantly enter various card details across several sites.
Ultimately though PayPal gives you flexibility. By managing your betting wallet in this way you can see clearly what you are depositing and withdrawing without these transactions being lost with your usual grocery shopping. Through PayPal you could build up funds to a certain amount before you withdraw so you can get more out of your winnings. Alternatively you can use your PayPal funds to spend as you usually would as this service is now accepted by many companies worldwide.
Some UK betting sites also offer PayPal quick registration allowing you to sign up, deposit and receive your bonus in a matter of minutes without you needing to enter your details over and over again (see below for more).
If you are looking for casinos that accept PayPal visit our friends at OnlineCasinos.org.uk
PayPal Gambling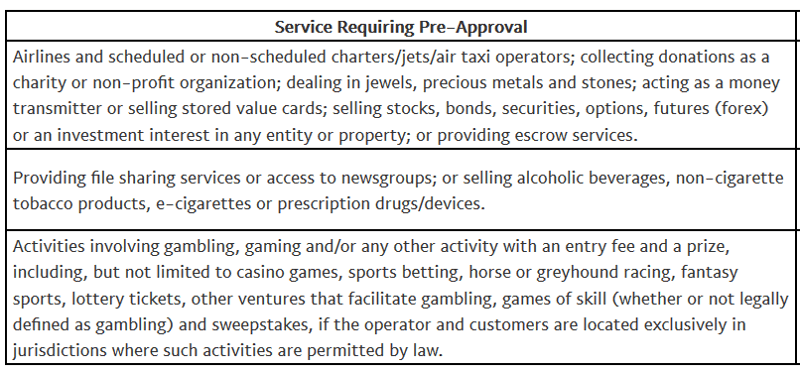 It is a misconception that PayPal cannot be used to fund online betting and gambling sites in the UK. It is true that in the USA, Canada and any jurisdiction where gambling activities aren't formally regulated (or are outright banned) PayPal cannot be used to deposit or withdraw funds into gambling sites.
But in the UK (and certain other EU countries) PayPal acceptance is now common place. Having said this, not all bookmakers offer the service – see the table above for a list of betting sites that accept PayPal.
PayPal make it necessary to complete their full verification process before you can use the service to fund a betting account.  This is largely to prevent fraud and it is one reason why you can predominantly claim introductory offers when using the eWallet, which is not the case with wallets such as Skrill or Neteller.
How to Use PayPal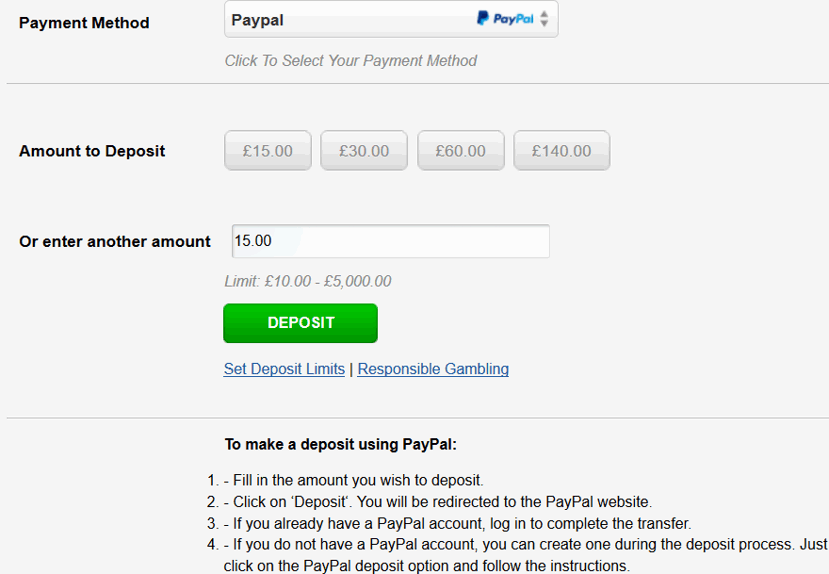 Many people have a PayPal account these days. If you already have an account simply make sure your eWallet is loaded with funds and select PayPal from the list of deposit options. As long as the name of the PayPal account matches the name registered on the betting site then this will be fine, even if the two use different email addresses. Usually you will not be able to withdraw to PayPal if you have not made your deposit using this method.
If you don't have a PayPal account signing up is easy. This does take a few days however as PayPal will need to verify that your address and bank account belong to you. They will do this by sending you a code in the post and also by transferring a nominal amount into your account with a specific reference code to be entered online. Once your account is set up you can load it with funds from which you can deposit into your betting account and play with as normal.
Although initial set up may take a week or so it is worth it. As soon as you have your bank account linked to your PayPal digital eWallet you will be able to manage all of your online betting easily from one place. It is also convenient for when your bank card expires, in this case you only need enter the new details once into PayPal rather than changing your card on each site it is used on. You can also have several of your own cards and bank accounts linked to the one PayPal account giving you more flexibility in funding options.
PayPal Quick Registration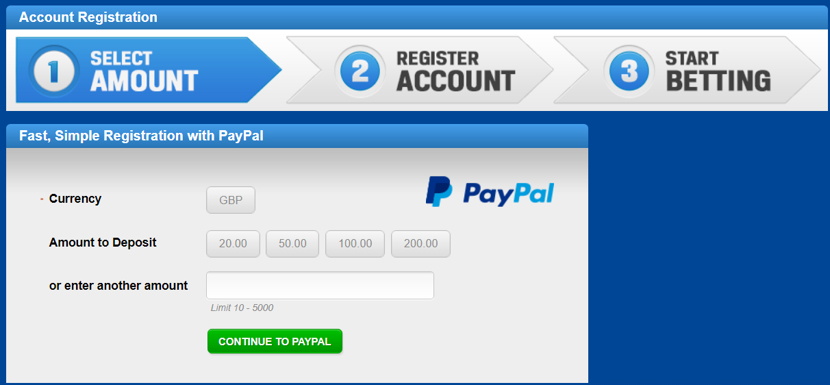 Some leading betting sites now offer PayPal quick registration (indicated in the table at the top of this page).  Coral and Ladbrokes were one of the first to bring this in.
This allows you to register with sites using your existing PayPal credentials.  You are in essence giving PayPal the authorisation to share your name, address, date of birth, etc., with the online bookmaker.  The main benefit of this is you can register in quite literally a matter of seconds while at the same time have you deposit method already set up.  This also has the added bonus that you only need to fill in your details once, with PayPal.
History of PayPal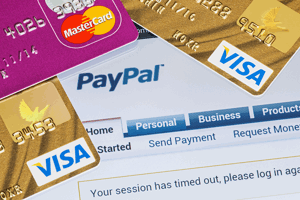 PayPal and its precursor Confinity were developed at the end of the last century as a new way to transfer money however it was through its association with eBay that the company really took off.
In a new era for online commerce eBay offered a pioneering way to buy and sell goods quickly and people wanted payment mechanisms to match this. Although eBay had their own payment system known as Billpoint by 2002, 70% of auctions on the site were accepting PayPal as their preferred payment method, and so in July of that year eBay bought PayPal for $1.5 billion. PayPal quickly went on to become the default payment choice on eBay but remained an independent business allowing it to be used with other online providers.
Over the next few years PayPal grew enormously and by 2010 had over 100 million active users. Today PayPal claim over 200 million users, operating in over 200 countries and in 25 different currencies. PayPal spun off off from eBay as a separate entity in 2015.
One of PayPal's founders was Elon Musk, who famously went on to launch his own private space rocket venture, Space X, with ambitions to send the first humans to Mars no less.  Switch over to OnlineCasinos.org.uk for a more detailed history of PayPal along with key facts and contact information.
Countries Where PayPal Can Be Used For Gambling
PayPal currently operates in 202 countries world-wide but is not available for use for gaming, gambling and betting in all. Here is a list of countries where PayPal can be used for gambling purposes.
UK
Austria
Belgium
Denmark
Finland
France
Greece
Ireland
Italy
Portugal
Spain
Sweden
The above list is not necessarily exhaustive, it is worth checking with PayPal directly if you are unsure of whether they allow use of their services for gambling in your region.
Security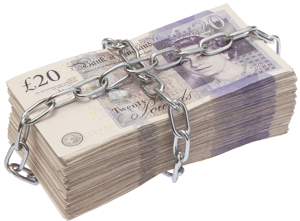 Conformity, the precursor to PayPal, were actually company set up to develop security software and so PayPal has been set up with security in mind from the get go. PayPal operate all of the industry standard measures to keep your data locked up tight.
On the whole it is much safer to leave your bank account details with a third party like PayPal rather than enter them over and over again each time you make a new transaction online.
PayPal in fact err on the side of caution a lot and will lock down your account quicker than any bank would if they suspect fraudulent activity.
At onlinbetting.or.uk we are security conscious so we recommend all our customer to set up two step authentication on their PayPal accounts for added security.
Fees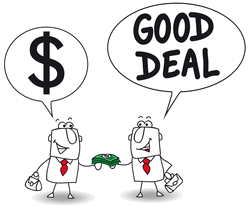 There are two ways you could be charged a fee for using PayPal, one from the betting site and another from PayPal itself. With so many payment options around these days any high fee system would be shunned so PayPal is pretty much free to use with most online betting sites that offer the service.
PayPal do have a range of fees for sending and receiving money although this is usually only if sending between countries or converting between currencies. If for example you have a UK bank account and bet in British Pounds with a UK bookmaker it is highly unlikely you will incur fees.
How do PayPal make money then if they don't charge you fees personally?  Well, by charging the operator fee, in this case the betting company. Some operators choose not to pay these fees and it is one primary reason why the feature is not ubiquitous.  Please do note PayPal may charge you fees for funding your digital wallet from certain sources such as credit cards as this is counted as cash.