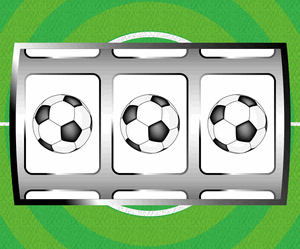 There aren't too many long running offers that deserve an entire article to describe them but Coral's football jackpot is a huge exception. It is really fun to play each week, doesn't cost a lot and if you win you will really win.
Exclusively from Coral for regular customers the Jackpot is available every weekend during the English and Scottish football season.
To play simply predict the outcome of 15 selected matches from UK leagues. Select either a home win, a draw or an away win for the 15 games on the football jackpot coupon by 3pm each Saturday.
This Feature Has Now Expired
How To Play Football Jackot
18+. Play responsibly, BeGambleAware, for help quitting visit
Gamstop
. #ad.
Select a stake form £0.25 to £20 per line. The minimum stake is £1, if you only do one line then your minimum stake will be £1. An example of a single line coupon is shown below: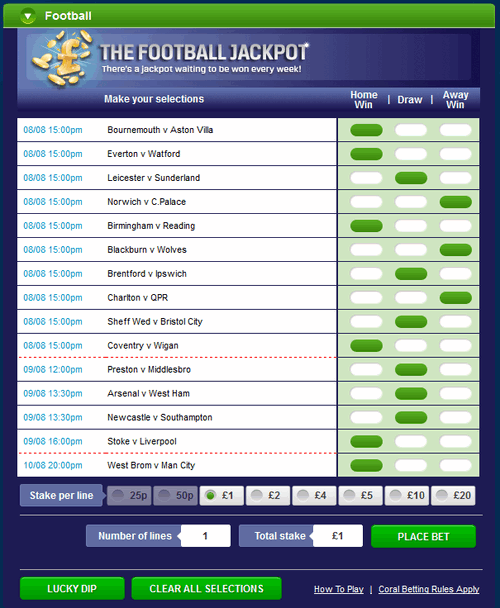 There is an option to select multiple outcomes for individual games and this will increase the number of lines you can bet on.
If you bet on more than one line you can lower your stake so long as the minimum bet is equal to £1 overall. For example if you were to select two possible results in 2 out of the 15 matches this would create a coupon with 4 lines like the one shown below. In this case you can qualify for the minimum bet per line of £0.25p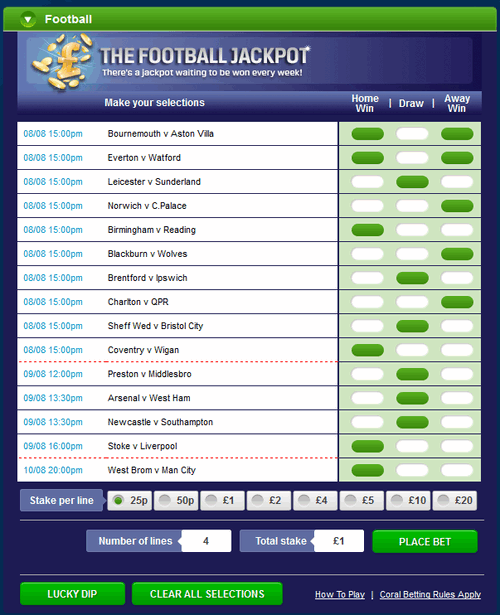 Place as many lines as you like at any stake from £0.25 to £20. If you were to cover a double result on just under half of your selections, say 7 out of 15, this would constitute 128 lines, see below. At 25p a line this would cost £32 for example. In theory you could cover every possible result but this would cost over £3 million at 25p a line and so is obviously not feasible.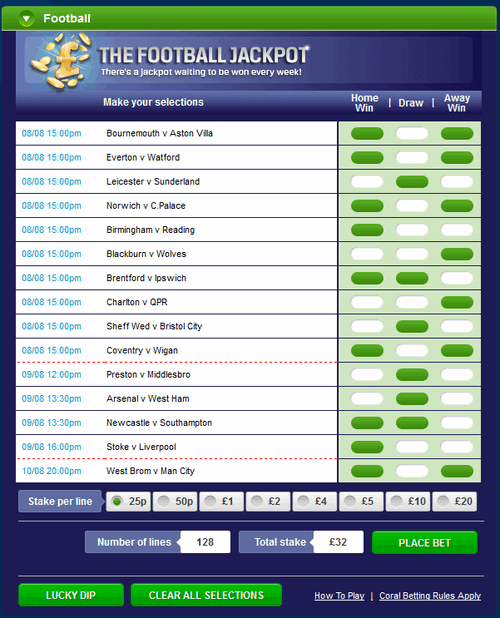 Don't know what to pick this week, then you could use the lucky dip function and go random?
Prize Structure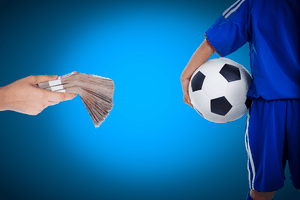 I like to think of the Coral Footy Jackpot as a bit of fun, I have a few lines each week in addition to my normal much smaller acca. Play every week and you will barely miss a £1 bet but if you were to hit all 15 selections you can win a share of a massive £100,000+ guaranteed jackpot prize pool. The list below details the prize structure.
All 15 selections – Win a share of the Jackpot pool. The jackpot pool is guaranteed to be at least £100k but will generally be more. The jackpot pool represents 70% of the overall net pool, if there is say £500k in the net pool the jackpot pool will be £350k. Win this outright if you are the only winner or share it if there are multiple winners.
1st Consolidation Dividend – Correctly predict 14/15 results and get a share of the top dividend. This represents 20% of the net pool. Using the above example of a £500k net pool this would equate to a share of £100k.
2nd Consolidation Dividend – Pick 13 correct results out of 15 and you can still win. The second dividend is awarded 10% of the net pool, again using the same example this could mean a share of £50k.
Terms and Conditions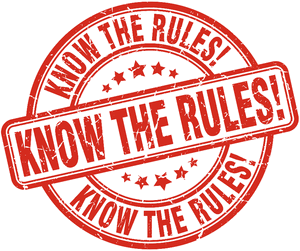 Minimum unit stake £0.25 and minimum coupon amount is £1. The minimum dividend is guaranteed to be at least £1.10. Entries must be submitted using the football jackpot form, conventional accumulator bet slips will not count towards the offer. The jackpot winner does not receive a share of the 1st / 2nd dividends in addition to the top prize.
If any of the specific Jackpot Pools are not won, the pool will be carried forward to the next corresponding Jackpot Pool in its entirety. In the event of a failure for whatever reason, which prevents the declaration of a dividend, the stakes of the Pool(s) concerned may be refunded (except for any rollover added to the Pool from the previous week(s), which will rollover to the next available weekend Pool (unless otherwise indicated by Coral). There is no maximum pay-out as all dividends are subject to the pool liquidity.
Bets must be placed before the pool closure time, this is usually 3PM Saturday but this can change so get your bets on in advance. Occasionally Coral will run a mid-week coupon at their discretion.
All matches will be settled on the official result after 90 minutes of play, including any 'injury time'. Extra time and penalty shoot-outs are not be included.
For any other terms see the Coral T&Cs.