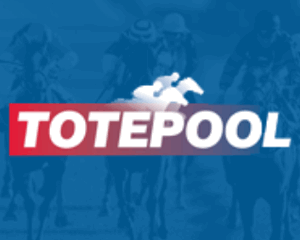 Anyone who's been anywhere near a horse race circuit in the UK will know the tote. The Tote was created and owned by the UK government from its formation in Wigan in 1928 until it was sold to Betfred in 2011. Now part of a new consortium the Tote is currently the only licenced form of pool betting on horse racing and will remain a single pool until at least 2025. Totesport still operates as its own brand with betting shops and an online website, and Britbet now run the Tote at most of Britain's race tracks with over 500 betting outlets.
The Tote is a form of non-fixed odds betting where potential winnings defined by the size of the pool and the number of people who share the prize, known as a pari-mutuel bet. The pool is divided by the winners minus a minor operator cut. There are several forms of tote betting option including win singles, each-way, place bets, forecast betting, jackpots and several others, all of which are explained below.
Tote bets are licensed to a wide range of bookmakers, although as the licence is owned by the Tote for a full range of features and jackpots you must bet through them (or Totesport). In this article we will explain the types of totepool bets available and how to place them, what tote offers are available and common conditions to be aware of.
Best Tote and Totepool Betting Sites
18+ #ad. Play responsibly, BeGambleAware, for help quitting visit
Gamstop
.
Betfred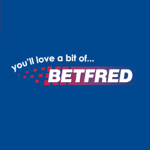 The difference between the tote, totepool and totesport can sometimes be confusing to new punters. The tote itself is a pool bet and was operated and run for a long time by the bookmaker of the same name 'The Tote'. In 2004 this was rebranded as Totesport, at the same time the bets tote bet types were classified under the name totepool for easier marketing.
When Betfred bought the tote in 2011 they also acquired the online site. This meant that Betfred could now offer totepool markets through their site, and likewise Totesport could offer the same fixed odds markets, features (such as streaming) and offers that their parent has.
In reality Totesport has just become a clone of Betfred, yet Betfred also have more products and features and so it is now more advantageous to bet with them. While the tote consortium licence out totepool bets to other bookies they have many special features that only they offer, such as enhanced jackpots and unique promotions. If you like totepool betting there really is only two places to bet. Despite being the same company you can also claim welcome offers from both site too.
The fact that the digital side of the Tote is no longer fully owned by Betfred (and in the near future may not be owned at all) means you should start to see the brand differentiating an innovating more in the coming months and years.
Terms and Conditions Apply 18+ BeGambleAware.org #ad
Other Places to Place Totepool Bets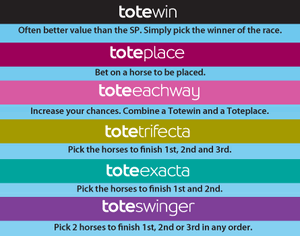 As of 2018 the tote now is free from its 7 year private monopoly licence with Betfred.  The Tote will however carry on pretty much as before as a deal has been reached to keep online and offline betting as a singe pool under the name Tote until at least 2025.  The original tote will run the marketing, betting shops and websites and a company called Britbet will run the tote at most UK racecourses.  The fact is any bookmaker can be part of the tote syndicate however and bets placed with those bookies will be included in the same pool pot.
There are also non-syndicated bookmakers that will accept tote bets and will payout in line with the official tote dividend. These bets will not however count towards the pot itself so in general it is better for everyone if you bet with a syndicated bookie.
For individual online bookmakers accepting tote bets see our betting site reviews. Not all Tote bet types are accepted by all tote bookmakers. For regular tote betting you will probably be better betting directly with Totesport or Betfred who as owners can offer all totepool bets.
How To Bet On Totepool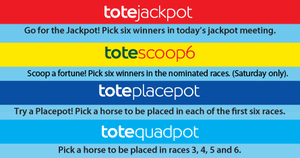 Totepool betting is very similar to conventional fixed odds singles, accumulators and forecast bets. Simply make your selections on a totepool coupon either as a single bet or as multiple bet as described in the bet types.
Some bets such as scoop6 and totejackpot are restricted to one pick/race as a one line bet but you can place as many lines as you wish. Other bets such as the placepot and quadpot allow you to make several selections in a race simply increasing the number of lines. Minimum stakes apply but these are always £2 or less.
Totepool Bets Explained
Totebets can be placed as win bets, place bets, mixed each-way bets, forecasts and more. Despite some nondescript names these bet types are easy once understood and we explain the most popular tote wagers here.
In all cases winnings are defined by the net amount of money in the pot divided by the number of winners. Most tote bets are also applicable to Greyhound Racing.  Tote minimum stake is usually £1 (unless stated below), or £2 on course.  This is minimum total bet, unit stake can be lower as long as the final amount exceeds that value.
Totepool Single Bets

The first is simple win bet, often better than the fixed-odds industry starting price (SP). Back a horse by name, by number or just back the favourite.  The win pot tends to be the biggest of the singe bet pots.
The net pool is divided by the total stakes on the winner to give a calculated dividend, which is then multiplied by your stake to determine your payout (this is the same for all other pools).  If there is a dead heat the net pool is divided up between the runners.  Non-runners are void (stake back), totewin bets can bet combined into multiples.

Bet on a horse to place in a race. This is a single bet separate to the win pot and will pay out if a horse places. Many prefer a place bet if they believe their horse will place but not win and don't want to bet an extra line on the win part of the bet.  Same terms as with totewin.
For Toteeachway there are two pots, one for the win and one for the place. The minimum bet in this case is £2, £1 each-way.  5-7 runner races have two places, 8-15 runners gives 3 places.  If it is a handicap with 16 or more runners get four places.

Select the winning horse in each of two specific races at the same meeting, as nominated by totepool.  This is very similar to placing a straight double in a fixed odds book.
If you have a non-runner it will be replaced by the starting place favourite.  If one of the races does not run get paid out on the first race (reverts to a totewin bet), if neither run the bet is declared void and you will get your initial stake back.  Permutation bets are allowed, here the minimum unit stake is 50p but the final bet must still add up to £1+.

Pick the winning horses from three specific races from the same meeting, as nominated by totepool.  This is the totepool version of a straight line treble with a fixed-odds bookie.
Terms are the same as for a totedouble, if a leg isn't run or doesn't qualify get paid on the remaining races, if all races are declared void get your stake back.  Non-runners revert your bet to a the SP favourite.

A triple forecast bet, predict the order at the end of the race 1st, 2nd and 3rd. Usually this applies to races with 8 or more runners.
This bet is the totepool version of a tricast and is extremely hard to win, but with very few winners the pool will be divided less and if you are lucky you win big.  If there are any non-runners or the field size drops below three then the bet is void.

This is a straight forecast, predict the winner and the 2nd place finisher in order.  Same terms, 3+ runners required, non-runner no bet.
A combination exacta is a reverse forecast bet, predict two horses to finish 1st and 2nd in any order, this is usually two bets combining two straight forecasts. A banker exacta allows you to predict one horse to finish 1st (the banker) and a selection of horses (usually 3) to finish second.

This bet allows you to pick any two horses to finish 1st, 2nd or 3rd in any order. Sometimes called an 'exotic' bet.  If the field size drops to 4 or 5 then the payout will be on the order of the first two horses.  Less than four runners the bet is void.
A different dividend is declared for each outcome. In places like South Africa this bet type is very popular accounting for up to 40% of total pool turnover.
Totepool Multiple Bets

Pick the winners from six races selected by totepool each day.  If you guess all selections correct you can win massive amounts of money from as little as a £1 bet.  The jackpot rolls over if there is no winner on that day and has been known to get as high at nearly £1.5 million.
This is one of the more fun bets you can place on the Tote.  Often people chuck a pound on this in addition to normal wagers in the hope that one day it just might come in.

Same principle as the jackpot, this is a feature that is available every Saturday and also on special holidays such as boxing day. Scoop6 races will usually be televised high profile races, the stake per line is £2 and if no one picks the 6 winners correctly the pool rolls over.  Jackpots regularly reach £1,000,000+.
In addition to the win fund (average payout over £200k) there is a place fund (average payout over £1000) that is shared between the people that picked six horses that placed.  Winner also get to play for a bonus the following Saturday, guess the winner of a single selected race for a bonus.  These bonuses grow very very big.  Offers are extremely common for this bet, particularly guaranteed jackpots (see later).

The placepot is the most popular totepool multiple bet type.  It requires the punter to pick 6 horses to place in the first 6 races of a meeting. This is available at all UK meetings with at least 6 races, and always applies to the first six races on the card.
Minimum unit stake is 10p/line (minimum total bet £1) and you can pick as many horses to place in a race as you like. For example in 6 races you pick a single horse in 2 races, two horses in 3 races and 3 horses in the last race. The number of lines would be 1x1x2x2x2x3 = 24, at 10p/line this bet would cost £2.40. These bets are a bit more fun and often keep you in the game longer. Back horses by name, number or just back the favourite.  Average payout is £407 per £1 staked.

This bet type is available for every UK meeting with at least six races and is run on the 3rd to the 6th race (4 races) on the card. Pick a horse to place in each of the 4 races. Minimum unit stake is 10p/line, overall minimum £1.
Quadpots are preferred by some punters as it is not quite as difficult to guess the places in four races versus six races in the placepot.  The average payout for this bet is still £58 for each £1 stakes too, hardly bad value and there are more chances to win.
Totepool Offers and Jackpots
ToteScoop6 Guaranteed Jackpot & Extra Dividends
The Scoop6 is a special jackpot tote run every Saturday (or on special holidays) for the biggest meetings and races. Totescoop6 has already created many millionaires, especially as the pool rolls over if nobody wins. Jackpots are often guaranteed for the feature meetings, such as Cheltenham or Ascot.  Winners also get a chance to win a bonus games the following week by guessing one winner correct, and other punters who get 6 places correct share a place dividend.  Betfred and Totesport often offer enhanced dividends on top of the normal jackpot for punters who bet through them.
ToteJackpot £1M+ Rollovers
Keep an eye on the totejackpot it can grow to huge levels.  Run daily it rolls over much more than scoop6 does and although the daily dividend may only be a few tens of thousand (I say only!) the figure regularly hits six figures, and sometimes seven.  The largest jackpot to date is over £1,400,000.  For a £1 bet therefore this can sometimes pay out more than the national lottery, and even though it is a long shot the odds are still significantly better than winning the lottery.
History Of The Tote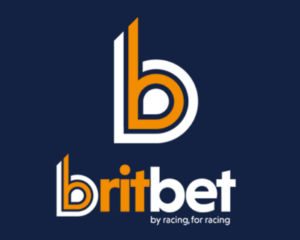 The racecourse betting act of 1928 created the racehorse betting control board set up by no other than Winston Churchill as a board appointed by the UK government. The idea was to provide a state run safe alternative to the then illegal off-course bookies. Effectively this ensured the government was getting its share of the action. The first race with tote betting available were flat meetings held at Carlisle and Newmarket in July 1929.
In the Betting Levy Act of 1961 the board was reformed as the Horserace Totalisator Board, termed 'the tote'. Its primary objective was to ensure distribution of funds from the horserace betting levy board. The Tote itself opened its first betting shop in 1972 from where it went on to grow to over 500 shops, 60+ on site locations and over 4000 staff. Tote direct was first set up in 1992 as a means of channelling bets from bother bookies into the tote pool. Tote is now taken in over 7000 betting shops in the UK and many tote online betting sites.
The Scoop6, one of the tote's most popular bet types, was formed in 1999 when the tote lined up with Channel 4 racing. This deal resulted in the first horseracing millionaire, the highest days turnover was seen in November 2008 with over £4 million in the scoop6 pot.
Calls to privatise the Tote were met with initial resistance in the racing industry back in 1989. It took until 2008 for the government to legislate the sale and it took until 2011 for it to be sold. 18 competitors including Coral were in the running but it was Betfred who emerged as the winner with a reported £265 million bid.
When the Tote monopoly ended in 2018 a consortium called Alzeti bought 25% of the existing Tote from Fred Done.  Lead by Alex Frost, a race horse owner and breeder, he wants to bring the tote back closer to UK racing with more funds going direct into racing.  The consortium hopes to buy the remaining 75% in the future.
Britbet set up as the new tote betting option at 55 UK racetracks at the end of he monopoly.  In a last minute deal Britbet, Alzeti and the Tote agreed to keep the brand under the same name with a single pool util at least 2025.  Britbet will however run the on track Tote with over £50 million going to those tracks over the eight year period.  They will also modernise the tote at racecourses with better technology and more employees.  Levy's paid to racecourses will also double and at the same time deductions from the pool for punters will decrease and we are promised to see more £1 million jackpots.
Keeping the pool as one and under one brand is the best future the Tote could have hoped for.  Some investment and a brand refresh should hopefully see pool betting begin to grow again, especially as customers realise how much better value it is compared to fixed odds betting.  It is also likely we might see some new totepool bet types and promotions come through with new brains, ideas and motivations behind the scene.
For a detailed history of the tote see our dedicated guide page.
Common Totepool Terms And Conditions
Pari-mutuel – Tote bets are terms pool or pari-mutuel bets.  These are peer-peer meaning the amount won is solely determined by the amount bet and the number of winners.  This is different to fixed-odds betting.
Payout limits – There are no payout limits for totepool this is simply the size of the pot divided by the number of winners. There are some minimum guaranteed prizes for promotional meetings and races.
Gross Pool – The cumulative amount bet on a given race or totepool coupon prior to deductions.
Net Pool – This is the amount of money in the pool minus the operators cut and the amount that is auto-rolled over to the next pot, the cut the bookie takes is a fixed percentage and very often can be lower than conventional margins on fixed odds bets. For totewin the net pool is 80.25%, 80% for toteplace, totedouble and, totetreble, 75% toteexacta and totetrifecta, 74% totequadpot, 73% totepalcepot, 71% totejackpot 70% toteswinger and Scoop6, etc.
Minimum stake – The minimum overall stake is usually £1 and £2 for Scoop6.  For permutation bet the minimum unit stake is £0.50. Multiple bets can have limits as low as 10p/line but the total bet must equal £1 or more.
Non-Runners and Void Bets – For totedouble and treble bets if your horse is a non-runner you will automatically be allocted the SP favourite.  For other tote bets stakes will be returned if a horse is a non-runner unless it has already come under starters orders. All other non-runners are classed as void bets.
Dead Heats – If the race is deemed a dead heat the pool is divided into equal parts as there are dead-heating runners.
Insufficient Finishers / Races – Pools are declared void and winnings refunded if there are not enough races on the card or not enough finishers in a race.
Places – 5-7 runners 1st and 2nd place, 8-15 runners 1st, 2nd and 3rd, 16+ runners non-handicap 1st, 2nd and 3rd, 16+ runners handicap 1st, 2nd, 3rd and 4th.
Other Rules – Full totepool betting terms and conditions can be found here.