If you have never heard of Boylesports there's no need to be too hard on yourself, they are predominantly an Irish based bookie although in recent years they have started to move things across to England too.
If you are midlands based you may well have noticed one or two of their high street betting shops springing up, but even those based elsewhere can take advantage of their online offerings, of which we will talk about in great detail below.
This is a comprehensive online bookmaker that takes a more traditional approach as well as utilising all of the latest and greatest in betting technology. This is a bookie where you can still bet via phone or call up and listen to results, as well as stream events live to your computer or phone screen.
They also offer a full suite of online gaming products covering casino, live casino, bingo, poker, and slots. So, plenty to talk about then!
Traditional Approach – Great betting options for more classic sports. Old school class and charm meets modern-day technology.
High Street Presence – 300+ high street shops and growing, now including stores in England.
Excellent In-Play Facilities – Online or in-store, betting live is rarely as much fun as it is here.

Welcome Offer: £25 Bet Bundle
18+. UK Customers (Excluding NI) only. Cash stakes only. Min £10 stake required for initial £5 free bet. Min odds ½. Max £25 in free bets. Subsequent free bets equal 50% average of each 3 £5 max qualifying bets. 13 settled bets required to receive full £25 free bet. Qualifying bets must be placed on sportsbook within 30 days of opening account. Cashed out bets will not qualify towards your average stake. One free bet offer per customer, household or IP address only. Free bet expires after 7 days. Payment method restrictions apply. T&Cs apply
New customers only T&Cs Apply, 18+ BeGambleAware.org / Gamstop.co.uk #ad
Are The Odds Good?
They might not often offer odds that you will ring your friends about, but Boylesports certainly know how to look after their customers.
You will be able to find better prices if you can be bothered to look for them, but unless you are betting daft amounts of money the differences you would see in a return would hardly make it worth the effort.
Some sports fare better than others, and for obvious reasons racing and football are among them, but for those of you that like to bet on other things there are a lot of odds enhancements at Boylesports. This means that even though the odds might not look majorly exciting at first, there are ways to get more value from your bets.
You might also want to check this bookie out for big fixtures as they have been known to spike and give unusually strong odds when a headline grabbing event is coming up. Plus, best odds are guaranteed on UK and Irish racing and there are always acca offers floating about.
You can switch between fractional, decimal, and American odds.
What's on the Sports List?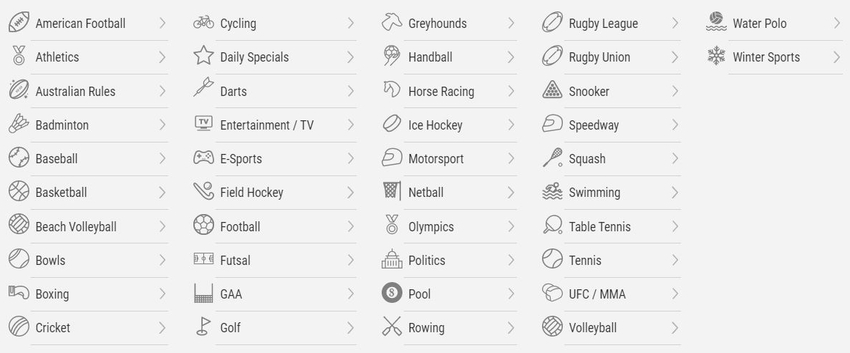 One thing you definitely won't have to worry about at Boylesports is the sports list. It's a solid collection of punter favourites like worldwide football, American sports, and cricket, alongside some very Irish sports like Gaelic football, hurling, and Irish politics.
Some sports get more attention than others, for example you can even bet on club friendlies in the football market, and I don't like to stereotype but the combat sports like boxing and MMA are very busy too. For things like baseball and motorsports they are more likely to stick to famous leagues/competitions.
Of course, being an Irish bookie you can expect full coverage of horse racing from meetings all over the globe, and if you can find more greyhound races to bet on anywhere else you'll be lucky. A lot of features and offers tie in with these markets too.
They don't tend to go crazy with market depth but then how many of us really use some of the more obscure bet types anyway? You will easily top 150+ betting lines on a Premier League game which is in line with most bookies, and for less popular sports you are looking at market depth that is middle of the road.
If diversity is your thing then you will find other bookies with more options, but not by many, and the sports themselves would have to be pretty niche. Overall, Boylesports boast one of the stronger lists in the industry with a respectable number of betting markets per event.
Live Sports Betting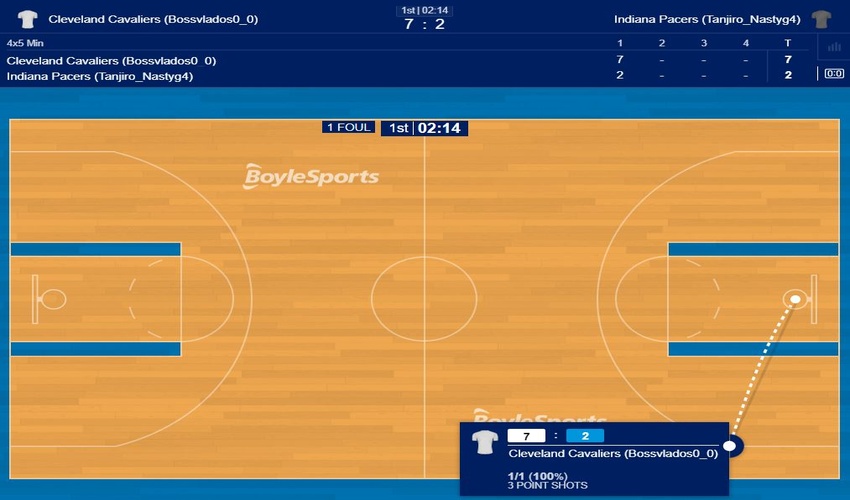 Once a match goes live a whole new bunch of betting lines open up, and the experience becomes something else entirely. With Boyelsports, punters have access to the very best SBTech powered live betting features such as match stats, bet and watch (live streaming) for horse and greyhound races plus other sports, and a great match graphic where a live stream is not available.
The match graphic goes into such depth that you can identify specific areas of the pitch where key events have taken place, analyse the teams previous performances, and see second by second updates in real time such as possession changes, dangerous attacks, ball safe notifications, etc.
The interface is much clearer than the homepage too so there is less to distract the punter from what they are doing, although it is more difficult to take in the odds at the same time as keeping an eye on the game due to the layout, but all betting options can be minimised or expanded to keep the place ship shape and minimize scrolling.
There is plenty of cash out availability, a fully comprehensive stats tool that you can use alongside, as well as the ability to favourite certain games or betting lines to make them easier to keep track of. This all amounts to an exceptional live betting experience that is probably one of the major selling points of this bookie.
Boyle Who? A History of Boylesports
With headquarters in Dundalk, County Louth, Boylesports is Irelands biggest independent bookmakers. This is no story of successful corporate strategy either, but a true example of a local boy done good.
It was the year 1982 when John Boyle opened his first betting shop in Markethill, Co. Armagh, but he only managed it thanks to a loan from his father. Boyle had been struggling with alcohol problems and lost his previous job as a bread delivery driver, and had no plans for the future. He naively set up shop with no idea how to run a business – he even had his telephone cut off because he didn't know how to pay his bills – but he somehow put all of the pieces together and stabilised the business.
After making plenty of mistakes John finally had a handle on things and went about expanding his mini empire, which by 2002 still only numbered 20 shops, but by now he was on a roll, and only four years later the company opened their 100th store.
Things continued to move at some speed as Boylesports bought out smaller companies and added them to its own fleet. In 2017 John Boyle stepped aside as CEO to allow Conor Gray to take the reins, creating the post of Executive Chairman for himself, and this partnership obviously worked well because by 2018 the shop tally numbered 250.
It wasn't until 2019, though, that Boylesports opened its first bookie on English soil. They had been operating stores in Northern Ireland for some time, but when the opportunity to buy out midlands based bookie Wilf Gilbert came up, Boylesports knew this was their opportunity to put down solid roots in the UK. This deal bagged them their first 13 stores in England, at a time when other bookies were having to close down.
As of 2022, this number has doubled.
Website & Platform: Wonderful or Woeful?
In all honesty, although the website is punchy in performance and looks good, it isn't always the easiest to use from a visual point of view. You will have no real problems with speed, responsiveness, or robustness – although they could be better – but the design often makes it difficult to see the whole picture without a fair amount of scrolling, and there are page loads after almost every move you make.
Blue is the dominant colour, with a white background and splashes of red keeping everything easy to spot and clearly defined, but various little niggles like the unecessary extra links to casino products clutter the interface and don't do anything the help the user who is there to make a bet, and the insistence on showing upcoming football events regardless of what the punter is trying to do feels invasive.
Navigation isn't really an issue, you won't struggle to find what you are looking for, but the design system results in a lot of back and forth so it isn't a particularly smooth ride. The site is very busy too, which is brilliant in the respect that it is jam packed with great betting markets and features, but other sites have found ways to soften this sensory overload.
There are all the usual quick links and filtering options you might expect and these do help things along nicely, but I feel there is plenty of opportunity to improve on this website. Their failings would not be enough to put me off using the bookie by any means, but I would appreciate it if they flirted with us a little bit more.
Mobile Betting (or should that be 'MoBoyle' betting?)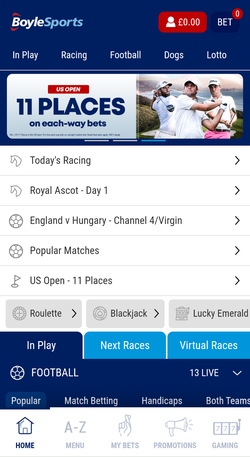 Can we all just take a moment to appreciate the pun in the heading for this section?
Thanks.
Right, so Boylesports has an app for users of all kinds of devices as well as a mobile optimised website, although they both look and function in the exact same way so there is very little reason to choose one over the other.
The app doesn't have the same issues as the slightly dated feeling desktop site, and although it is still 'busier' than other apps they have achieved an awful lot with a limited amount of screen space.
A mixture of scrolling menu bars and drop down's enable the user to manage pretty much everything single handedly, and the big old cash out button will save precious seconds when you need to use it.
It's a little slower than would be optimal if truth be told and feels a bit sleepy in its responsiveness too, but not so much that it will cause any real problems or make you want to scream.
This sort of thing does need tightening up though to bring the product into line with Boylesports' big competitors.
Still, it's perfectly serviceable and contains every market and betting option you will find on the desktop site, as well as feeling like it belongs in the modern age.
It's designed first and foremost for live betting which makes sense, and in this regard it will not let you down.
Why Choose Boylesports?
It seems obvious to say but if you have even the slightest interest in Irish markets then Boylesports has to be in your portfolio of bookmakers. They are hard to compete with for horse and greyhound racing availability too, and this is where they show their most competitive odds.
If you consider yourself to be more of a traditional bettor then you should feel at home here without having to miss out on any of the more contemporary betting innovations, and what with the company expanding onto UK soil and running betting shops that put other bookies to shame, they may well start looking attractive to anyone who likes to bet in the high street too.
Live betting is a key component of their business and something they pull of remarkably well both online with the help of SBTech, and instore with their cinema style viewing areas.
Boylesports are a real contender for your business in a lot of areas, and with plenty of offers, enhanced odds and promotions to bulk out their already decent odds, there's every reason to give them a shot. They could well be nipping at the heels of the big five in years to come.
Getting Help from the Support Team
It would be odd for Boylesports to offer the Fon-a-Bet service but not allow customers to reach the support team in the same way, but luckily phone support is a very real option for those of you that like a natter.
You can also access help and support using live chat, e-mail, post, and even social media. In fact, although the Twitter account is not specifically set up as a support service, it's extremely active and engaging and brilliant for the latest news, special offers, odds enhancements and the like.
Every time I have been in touch the staff there have been an absolute pleasure to deal with, and really the only slight improvement that could be made in this department is to the FAQ. It holds a ton of information within it but it isn't very easy to scan, and some of the answers feel rushed. Still, it does the job.
Best of all, you will be able to reach someone at Boylesports 24 hours a day 7 days a week. This is another mark of the genuine bookie; one who is evidently happy to be contacted and gives their customers every opportunity to do so.
Banking and Payment Options
It's good to see a diverse range of payment options available, as this makes Boylesports a real option for pretty much any kind of bettor.
Plus, being an Irish bookie they accept some European payment methods that UK only bookies will not. For anyone who travels a lot perhaps, this is going to be extremely useful.
It's also great news that the company aim to process all withdrawals within 24 hours. This is the sign of an honest bookie, as many like to keep withdrawals pending for no good reason before they do anything about them. For those customers using ewallets this could mean your money is in your account within 24 hours or sooner.
On top of this, the low minimums on both withdrawals and deposits make betting at Boylesports accessible for even those with lower amounts of expendable funds.
The Rules of Winning: Maximum Payouts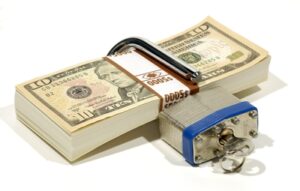 No one likes to be restricted but all bookies have to set a winning limit to protect their business, and at Boylesports, it not going to upset too many people.
The maximum punters can win on any single bet on things like Class 1 races and top flight football is €500k, dropping to €250k for golf and going as low as €10k for some non-sporting events. There is plenty of in-between so do have a look for yourself to avoid staking more than necessary to hit the winning cap.
Only the very biggest bookies have higher limits than this and in reality it won't affect the majority of us who only place £10 wagers at the weekend.
The minimum stake is between 0.01p and 0.10p for most markets, and although no maximum stake is mentioned do be aware of the payout cap when placing your wager.
The High Street Shops
Boylesports are also one of the few select bookies with a real world presence, and although they are currently only operating stores in Ireland, Northern Ireland, the Midlands, and a few in the North West; at the rate they are expanding they may well be opening a shop near you soon.
What's more, Boylesports shops are something of a cut above, being fully carpeted with complimentary refreshments, cinema style viewing, and sofa seating, these places feel more like exclusive lounges than betting shops.
Those who still regard cash as king can take full advantage of the above and avoid using bank altogether if they wish, and with the addition of the BoyleXtra card, you have full flexibility with your funds.
For example, you can cash out a bet and have the money sent to your online account, or handed to you in cash. This also means instant withdrawals – you can win your online bet, walk into the shop, and have your money in seconds. There are also prize draws, and exclusive offers and free bets for card holders, and it's free to sign up so there's no reason not to really.
Online Gaming & Casino
Sports fans with a penchant for gaming and/or casino will be spoilt for choice if they venture into the casino section of the site.
Alongside the regular offerings like slots, jackpots, and table games, there is also a live casino, a few bingo rooms, lotto, and a downloadable poker product with its own offers and promotions.
This is an absolute goldmine of gaming, and a good way to try your luck when you have a few quid left over after the weekend and don't know what else to do with it. You might even be able to turn it into next weekend's bank roll.
License & Contact Details
Name: Boylesports
Registered Company Name: Boylesports Enterprise
UKGC Licence Number: 39469
Telephone Support: 0800 22 00 66
Telephone Betting: 0800 44 00 00
E-mail:

[email protected]

Twitter: @Boylesports
Registered Address: Finnbair Industrial Estate, Dundalk Co. Louth, A91 Y899