One of the biggest and oldest bookmakers in the world, William Hill can do pretty much everything you could want from an online bookmaker.
With a larger sportsbook than most, great live betting, excellent streaming, plus an impressive mobile app, bettors can rely on a fully rounded online gambling experience with plenty of physical bookies to visit, too.
If you are someone looking for just one betting site to handle everything then William Hill must be in your top three.
Offers are good on the whole, especially for major events, and odds usually sit among the best all told.  William Hill would be a valuable addition to your betting portfolio based on the number of betting options alone.
Powerful Bookie – Few can match their resources and features.
Live Betting & Streaming – Every feature and a large range of markets, for free.
Diversity – Bet online, by phone, text and in store with a huge array of payment options.
Advertiser Disclosure
This review is editorial and impartial but features affiliate links from which we may earn commission.
Welcome Offer: Bet £10 Get £30
18+. Play Safe. From 00:01 on 17.10.2022. 3x £10 free bets. Free bets expire after 30 days. New customers signing up through mobile or tablet device only. Minimum £10 stake on odds of 1/2 (1.5) or greater on sportsbook (excluding Virtual markets). Further terms apply.
New customers only
T&Cs Apply
, 18+ BeGambleAware.org / Gamstop.co.uk #ad
William Hill Origins: Where It All Began

Even if you have never placed a bet you will know of William Hill. They have a betting shop on what feels like every UK high street, strong advertising and a huge online presence – if an alien happened to land in the UK they would think William Hill offer services critical to humanity.
William Hill currently claim around 25% of the UK betting market, run over 1400 shops in the UK, operate in 200 countries online, are available in around 20 languages and accept the widest range of currencies and banking methods. With an annual revenue in the billions and employing over 16,000 people it is safe to say that William Hill are one of the biggest corporate betting enterprises in history.
The company was founded in 1934 by, you guessed it, Mr. William Hill. The man behind the legend was born Birmingham in 1903 and began by operating an illegal book from his motorcycle while working in a local factory. William joined the Royal Irish Constabulary Reserve Force (Black and Tans) in Cork in 1919, where he went on to set up as an on course bookie in 1925 but quickly lost all of his cash. In 1929 he moved back to London, and after taking bets on greyhounds he went on to set up an illicit gambling den in 1934 taking advantage of a legal loophole that allowed bets by credit and post rather than cash. In 1944 Hill produced the first fixed odds football coupon and his holding company was listed on the London Stock Exchange ten years later, in 1954.
William Hill initially thought legal betting shops were "a cancer on society" but reversed this opinion in 1966 when he opened his first, although his initial reluctance allowed his competitors to take the advantage to begin with. William Hill died in 1970 aged 68 and the company was acquired by Sears Holdings in 1971, followed by Grand Metropolitan in 1988 and Brent Walker in 1989. Brent Walker collapsed due to massive debt and William Hill were taken on through a leveraged buyout by Nomura, a Japanese Investment bank, in 1997. William Hill online launched the next year in 1998 which was very early days for online gambling. Nomura offloaded the company to private equity firms Cinven and CVC following a failed floatation in 1999, and it floated on the London Stock Exchange in 2002.
In 2005 William Hill purchased 624 new shops (but were forced to sell 78 of them by competition watchdogs), in 2008 they went into partnership with Orbis (now Openbet) and Playtech to boost their underperforming online operation and expand their casino services. This succeeded but they parted ways in 2013.
Like most other big bookies, William Hill moved their sportsbook and online gaming operations to Gibraltar in 2009 for 'tax efficiency'. They are now truly an international bookie, even becoming the first European operator to be awarded a gaming licence in Nevada, US (see image above).
This ultimately all lead to the American giant, Caesar's Entertainment, bidding for the business and the deal went through in 2021. However, Caesar's were only interested in the technological capabilities of the company, so in 2022 they offloaded all of the brand's European assets making almost all of their money back in a sale to 888, who now own and operate the once independent giant, William Hill.
The Site and Betting Platform
Back in 1998 William Hill became the first UK bookie to launch an online site and this improved leaps and bounds through a merger with Playtech nearly 10 years later. Although William Hill later parted company with Playtech, it was an inspired move to bring the antiquated bookie into the modern world.
This is a sophisticated site that runs exceptionally smoothly considering its depth. The classic colours of royal blue, soft pale blue and white are distinctive without feeling blocky, and they work well with each other to both promote the brand and make the odds and text easy to see against the background. It's very light and airy so you won't end up squinting to make out the betting options.
There are multiple sections and menus to the homepage and beyond, but most navigation will be done from the sidebar menu unless you want to get stuck into the events of the day, which take centre stage immediately as you log in. This will be useful for many punters but betting on future markets only takes a few extra clicks, and the search function is exceptional – a search for Grimsby's Wes Thomas brings up his next match, for example, and there you have every bet type and market for that fixture. A 5 second job.
Digging Deeper
They haven't tried to cram too much onto the homepage which is a mistake they have made in the past (and many others still make), instead giving the bettor fewer options from the offset and allowing them to choose their path. This creates space and doesn't overload the punter, and means that once you start making decisions the information being shown is more relevant to you.
From sport to sport you will be offered highlights in the first instance but can organise things from a side menu offering Daily Lists, Competitions, In Play etc, to target the match or markets you are after. Collapsible menu's then come into play to reduce the amount of scrolling that is necessary. They have employed some useful small icons next to each event informing punters when cash out or live streaming is available, too.
Loading times from one page to another can be a bit hit and miss, but generally there is nothing to worry about; it might just feel like it needs a kick up the backside every once in a while.
Betting Markets
As you would expect from their size William Hill offer a lot of markets to their customers. Depth of market is really good and William Hill are a great bookie for those who like to bet on a variety of markets and events.
William Hill were the first to offer a fixed odds football coupon back in the 1940's and today you can bet on all major world football, right down to the South Korean K-League. Other well stocked sports categories include tennis, horses, snooker, golf, and they are pretty good for boxing, too. Political and special markets are surprisingly well covered, and overall, they list 32 different betting categories.
Within these categories market depth varies as you would expect, with football far outweighing the rest. To be honest you will struggle to find much more anywhere online; a recent game between Tottenham and Dortmund had 323+ future markets available, and you can expect plenty more in-play. If you do want to bet on something they haven't already thought of then you can use the #YourOdds option and ask them.
Not all sports get this sort of attention, of course, it will be relevant to their popularity, but a recent test match between Sri Lanka and South Africa had 50+ markets available in-play which gives you some idea of the range.
What are the Odds Like?
William Hill are very competitive around major headline grabbing events and often sit near the top of the odds charts for big outright bets. On the whole the odds are decent across the book and profit margins on some sports like Basketball are notably small meaning they offer particularly good odds here.
Considering their size, you might expect William Hill to offer more enhanced odds promotions than they do, although this does seem to be improving of late, especially when it comes to football, and they are clearly advertised on the site so you shouldn't miss them. Speaking of football, William Hill have run money back offers in the past including money back accumulator (acca) insurance, bore draw money back and a few others.
There are often bonuses year round for flat and jump horse racing, and as you would expect best odds are guaranteed in this department. You can also get decent offers on other sports around big events.
Odds are available in fraction, decimal and American formats and prices are always available if you request them online or in store – see the contact information section below.
Cash Out
Cash out, or indeed 'Cash In' as William Hill term it, is an excellent feature to enter the world of online betting. It is a simple concept, place a bet on a qualifying market and you can cash in your bet before the event runs to completion for a fixed sum based on the situation as it stands at the time. This can be before the event starts or even in play. This adds a great tactical dimension to online betting, particularly useful in mobile gambling.
As an example; you have placed a £10 bet on England to win a test match at 2/1 before the match, at the end of day 4 England are 120 runs behind with 5 wickets remaining. Let's say you are being offered odds of evens to Cash Out your bet at this juncture; you may decide to cash in your bet at lower odds rather than risk losing the whole amount. Beware, your settlement will always be a lower value than your potential winnings will be if you were to allow the bet to run to completion, but by settling early the risk of losing your bet is gone.
Cash In amounts on qualifying bets are clearly displayed in the open bets section, William Hill offer Cash In on a large number of markets and also offer partial Cash In functionality.
Payment Options
You can't really go wrong with William Hill when it comes to payment options and features. You can deposit in an inordinate number of ways, all fee free at their end and with good limits. You can bet in 11 currencies and services are available in 24 languages in over 175 countries worldwide.
Money In Money Out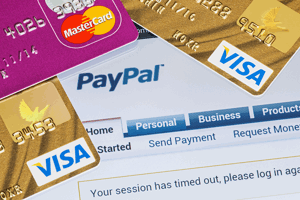 Deposit limits vary by funding method and currency but for general card payments (Visa, Maestro, Mastercard) the minimum is £5 with a maximum of £99,000 in any 24 hour period. This should be instant. William Hill offer a dizzying array of payment options pretty much unmatched anywhere else.
You can withdraw in all the currencies you can deposit with but methods are a little more limited as is to be expected.
Withdrawals are free of charge at William Hill's end but some charges might apply from your bank for wire transfers, and any fee is clearly displayed on the withdrawal page.
All withdrawals are instantly processed (other than bank transfer) and will take anything from a few hours to a few days to appear on your account due to normal banking procedures. If you withdraw into digital wallet services such as PayPal and Skrill payments can clear in a matter of hours.
Minimum withdrawal amounts vary but you are likely looking around the £5 or £10 mark, with maximums as high as £100,000 and hitting every branch on the way down to £5,000 for some methods.
Plus Card
A truly useful feature at William Hill is their Plus Card.
This is effectively a card linked to your online betting account wallet which allows you to deposit and withdraw funds, in cash, to and from your online account. So you have more control and instant access to your cash.
You can do this in any William Hill shop without having to wait for money to clear following a withdrawal request, for example. So if you win £30 with an online bet on the horses, you can pick those winnings up in cash from your local shop.
The card can also be used to bet on sports or games in store using the digital terminals, and bets placed in store through the card qualify for online offers and are eligible for features such as cash in. It's free to get one which makes it a bit of a no brainer really.
Bets and Payouts
Maximum bets and payouts are not always made clear with bookies and this leads to problems every year with someone having their payment capped on a big win. This doesn't just affect those placing large wagers but also punters wagering smaller amounts on selections with high odds. Make sure you check your payment limits before you start.
Bucking the trend, minimum and maximum bets are clear as day at William Hill. The minimum stake is really low at £0.03 on singles and £0.01 on multiples. Maximum bets are not determined and are set based on maximum payout limits. William Hill operates one of the biggest telephone betting exchanges (a hark back to the old days still used by some) and minimum bets by phone are set at a reasonable £10/call (min £1 single, £0.25 multiple).
As well as betting by phone you can also bet by SMS text service (53128). Simply write your bet out as you would on a bet slip and text it in (e.g. £10 win Liverpool). Minimum bets are low for this service at £1 and you can even deposit and withdraw by text which is a nice function.
Maximum payouts are good at William Hill, and with pockets as deep as theirs this is to be expected rather than applauded. William Hill have a tiered payment structure based on bet types within each sport, so check your maximum payout carefully. You can win up to £1 million on UK and Irish horse racing, £2 million on major men's football, £500k on golf, £250k on tennis and most other major sports, £25k on other minor sports and non-sports, £50k on politics, £250k on virtuals and up to £1 million on lotteries.
Maximum payouts are defined by the market with the lowest cap so bear this in mind when placing multiples bets that combine markets or you could do yourself a mischief.
Live Betting Action
In Play Betting
In play with William Hill is one of the most expansive packages available online. It is smooth and simple, odds are clear and update rapidly, and you can see easily if streaming and cash out are offered on markets – in fact, from the main in-play interface you can flip a switch so you only see events that are available to stream. The in play schedule is also very useful and easy to use, and since the facelift, the whole thing is quite pleasant to look at, as well.
When you expand an in play market you are presented with a clean graphic display that offers text commentary and statistics. This varies from sport to sport, but the football one especially stands out from the crowd. Combine this with great news, radio in play, blogs and results features and the live betting service at William Hill is a very useful package.
The in-play markets can be categorised to speed up the process of finding your bet (Goals, Half & Period, Handicaps/Total Goals etc) – betting live is time sensitive all about getting your bets in quickly, after all. This, combined with collapsible betting lines can actually save you a lot of time, but you will still have some scanning and scrolling to do in busier categories.
Be warned, this can be slightly buggy. The in play market categories don't update as the odds do, so for example the 5 minute markets could end while you are looking at them but they would remain visible, leaving you clicking and wondering why nothing is happening. A page reload is needed in this situation.
That being said this is a fantastic product that is great to use 95% of the time. There are better in play packages around, but only one or two.
Live Streaming
William Hill do throw their financial weight around when it comes to offering live streaming. William Hill TV (WHTV) offer streaming daily with football, tennis, major horse racing and loads of other sports from basketball to volleyball. The streaming service runs in combination with the dedicated in play radio service and text commentary meaning it is possible to get minute by minute action on all in play markets.
What's more, you don't have to have funds in your account to watch WHTV which is a nice gesture. This goes for the horses too which is above and beyond. The streaming service runs seamlessly with in play and can be accessed fully through the mobile app. Streaming is indicated by a small TV symbol next to the event and can be viewed from the in play interface, or watch WHTV which covers racing only and is available from the home screen.
The display when watching in play is very small, however, and William Hill don't quite offer the multi-event streaming functionality that others do – there are no bespoke event views or personalised grid systems in place.
It is the simplicity of the William Hill live betting and streaming that is the selling point, though, so perhaps this is not such a bad thing.
Mobile Betting Capabilities
The mobile app from William Hill (and indeed the mobile website) provides all the functions you get from the main site; you can manage your account, bet in play, stream, etc.
The interface is very good considering the depth of features offered, and for those of you that prefer betting on apps then this one will serve you so well you need never visit the desktop site again.
It is worth mentioning how well William Hill deal with scale on mobile, other bookies could learn a lesson from this. The home page and individual pages for specific sports and in play utilise effective collapsed menu options which only aid functionality.
You don't spend long scrolling or finding your bet which is essential while on the move or betting in play, which is what most people will want to use the app for. There is a quick link to open bets to help manage your activity even more quickly.
The main menu is multi-functional allowing more of the site's features to be hidden out of sight until you need them, and this is key to keeping the interface clean and tidy. Menu's within menu's might sound a faff but it's actually very ergonomic and intuitive.
Live streaming and in play betting actually feels better on mobile, and if you have any issues you can even contact support via the app. It's unlikely that you will be let down by the mobile offering, though, it's one of the best of the bunch.
Gaming and Casino
In a similar vein to the sportsbook William Hill offer a full array of casino and gaming options with specific sections on the site and mobile apps for each.
There is a lot of content in here with various categories to explore such as Live Casino, Slots, jackpots, table games, bingo, slingo and poker are all available and you can get additional bonuses for using these services.
For more about the casino read our William Hill casino review.

Customer Service
William Hill trains their staff well and this comes across instantly if you phone up. The phone support will be a welcome sight for many, and is the best way to get a knowledgeable and accurate answer in minutes, although it is not there for online questions unfortunately – just for retail customers.
Other customer service options for online customers include live chat, or Twitter – and the more conventional post I suppose if you have the patience.
Live chat is a 24/7 service so you won't be left stranded whatever the time of day or night, while Twitter closes at 11pm.
The searchable help section on the site (an FAQ) is very useful and contains clear answers too. There is so much packed in here that it would be very easy for it to become mind boggling, but they have done an excellent job of sectioning it off and keeping things manageable.
All in all customers at William Hill have everything they need on hand to help them should they need it, and it is all quick and easy to access. Realistically, if you did have an issue, it shouldn't take more than a couple of minutes to contact the team and sort it out.
USP
It's hard to come up with a true USP for William Hill. They are one of the biggest corporate bookmakers around and they do pretty much everything you want from a bookie.
They score highly in every area, but can't claim top spot in any. In play and streaming are excellent but not necessarily unique. The option to bet in a huge number of stores as well as online is a draw but again not novel. The plethora of payment options is impressive and the mobile app is really good, but neither are a speciality.
The lack of a betting exchange may put some punters off perhaps, and being such a complex site newbie's could feel overwhelmed, but William Hill are definitely to be recommended as part of everyone's portfolio, even if they aren't your bookie of choice.
Bearing that in mind, then, it's safest to say that William Hill are a good destination for punters who want consistency, reliability, and a safe pair of hands. Calling them a good all rounder is to undersell them somewhat, because this workhorse of a bookie excels overall rather than in one or two specific areas.
Contact & UKGC Details
Name: William Hill
Registered Company Name: WHG (international) Limited
UK Licence ref/No: 39225
Customer Services: 0870 51 81 715 (Retail queries) or 0330 123 9638 (Plus Card queries)
E-Mail: Try these, but email is not technically an option anymore – 

[email protected]

, 

[email protected]

Customer services address online: William Hill Online, 6/1 Waterport Place, Gibraltar, GX11 1AA.
Customer services address in store: Greenside House, 50 Station Road, Wood Green, London, N22 7TP.
Phone betting (24/7): 0800 44 40 40, 1800 333 555 (IRE), +800 11223311 (overseas)
Text Betting: 53128
Twitter: @WillHillHelp
Registered company address: WHG Limited, 6/1 Waterport Place, Gibraltar, GX11 1AA.