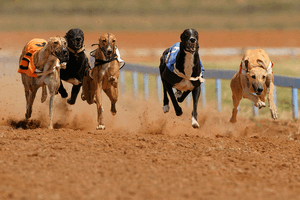 In some respects greyhound racing has fallen on hard times in the last few decades, attendances at meetings are down, many tracks have closed and going for an evening out at the dogs is no longer the popular working class night out that it once was.
In other respects however the sport of dog racing in Britain is booming; more money is wagered on greyhound racing than ever before with an annual turnover in the UK of over £100 million. Many UK tracks are now owned, and therefore preserved, by UK bookmakers themselves, almost solely for the purpose of live streaming to their punters. As a consequence of this, combined with the rise of online betting, there are more bet types and betting offers available for dog racing now than ever before.
In this article we discuss some of the best betting sites for greyhound racing, how to bet on greyhounds, popular bets, history, major meetings, odds/payouts and more.
Best Online Bookmakers for Greyhound Racing
18+. Play responsibly, BeGambleAware, for help quitting visit
Gamstop
. #ad.
The history of high street bookmakers was forged on the dog tracks in the early 20th century. Founders such as William Hill himself started out this way as did many others. Thankfully the sport survives to this day and has taken on a new lease of life in online gambling. Any bookie worth their salt will have a good greyhound market.
Here are our best bookies for greyhound racing and why.
Maximum Payouts For Greyhound Racing
A Brief History of Greyhound Racing
Modern greyhound racing derives from the hunting 'sport' known as coursing. Coursing is still practiced in some places around the globe and involved dogs chasing live animals, usually rabbits and hares, the winner being the dog that catches the rabbit. Coursing does not necessarily need a track. If you have ever seen the film Snatch you will know what coursing looks like.
The first official coursing meeting was in 1776 held in Swaffham, Norfolk, UK. This involved just two greyhounds allowed to course a single hare given a 240 yard head start. The first recorded coursing race with an artificial lure was held 100 years later in 1876. Six greyhounds were raced on a 400 yard straight track in Hendon, London. The theme didn't really catch on at this point in the UK and it was the American's that took the sport forward to what we know today.
In 1912 the American Owen Smith invented the artificial hare to stop the killing of jack rabbits. In 1919 he opened the first professional oval dog track, complete with spectator stands, in Emeryville, Californina. This led the way to on course betting and pari-mutuel gambling, we know this better as the tote in Britain.
The oval greyhound racing track was introduced to the UK in 1926 by Charles Munn and Major Lyne-Dixon. In concert with Brigagier-General Critchley and Sire William Gentle £22,000 was raised to fund the launch of the Greyhound Racing Association, later renamed the Greyhound Board of Great Britain (GBGB). The first race was held in Manchester's Belle View stadium, sadly now closed. The sport took off in industrial British cities and by the following year, 1927, there were over 40 tracks in the UK.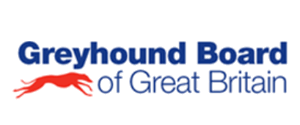 With races held in the evening and an urban setting the sport quickly caught on with working-class men. Owners and patrons came from a mix of social classes but overall the sport of greyhound racing was far more accessible and less elitist compared to horse racing. Greyhound racing saw its heyday after WWII with over 34 million paying to attend races in 1946.
Greyhound racing started a slow decline from the early 1960's when off-course betting was made legal. Limited TV coverage, lack of sponsorship and abolition of the gambling tax lead to the sport being nearly wiped out. The sport declined from hundreds of tracks to just 25 in 2022.
It is actually online betting sites that are at least in part responsible keeping the sport alive. Live streaming of greyhound racing has created somewhat of a revival in the industry. Track attendances are still very low yet more people watch greyhound racing than ever before with in play betting and streaming. Bookmakers such as Coral even own tracks such as Romford simply to stream races to customers.
A positive consequence of the heightened involvement with online bookmakers means there are plenty of greyhound offers and best odds guarantees around.
For a detailed guide to the life of a racing greyhound, written by a fully qualified veterinarian, see our dedicated guide.
Declining Attendances and Track Closures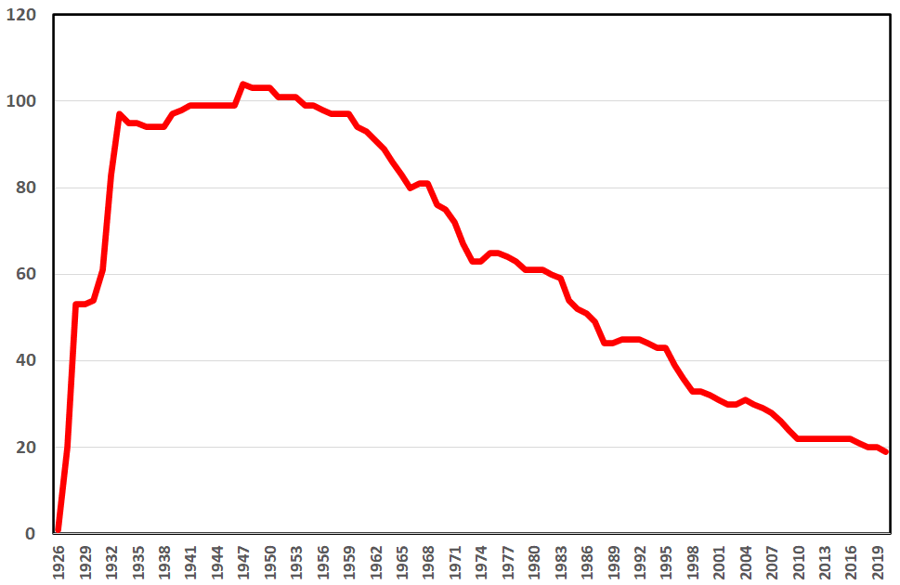 Following a peak in popularity in the 1940's greyhound racing attendances have been declining since off-track gambling became legal in 1960.
The demise in greyhound racing has seen the number of tracks dwindle from 77 to less than 25 licensed venues today, many factors are responsible for this from lack of engagement with younger age groups to animal welfare issues and changing inner city environments.  At the same time greyhound racing is exploding online with more money bet on races than ever before.
Bookmakers themselves are buying up and cleaning up the industry to create a new future for the sport.  Read more about this in our demise of greyhound racing in the UK article.
How Greyhound Racing Works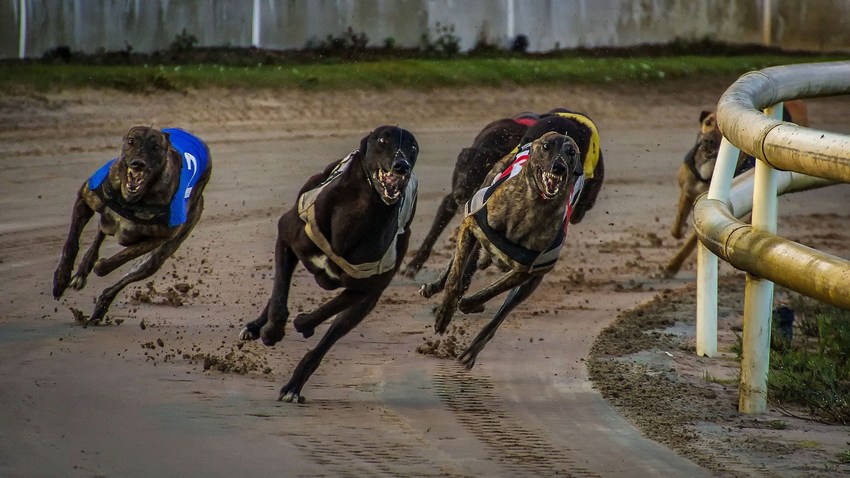 Greyhound Racing is operated in the UK under the Greyhound Board of Great Britain.
The principle is simple; dogs are drawn into traps numbered 1-8, although most races consist of 6 dogs. Traps have a defined colour scheme in addition to a number, shown in the table below, and this makes spotting your dog really easy.
It is generally thought that the traps in middle provide the best chances. This is because it is close enough to the rail for the dog to take up an inside line but far enough out that the dog gets a good sight of the lure when it is released. In practice this makes little real difference.
| Trap Number | Background Colour | Number Colour |
| --- | --- | --- |
| Trap 1 | Red | White |
| Trap 2 | Blue | White |
| Trap 3 | White | Black |
| Trap 4 | Black | White |
| Trap 5 | Orange | Black |
| Trap 6 | Black/White Stripes | Red |
| Trap 7 | Green | Red |
| Trap 8 | Yellow & Black | White |
Greyhounds race around an oval track with the distance variable based on the race type and the track the race is held at. Sprint races (D) are around 2-400 meters, middle races (A) around 500m, stayers (S) around 6-700 meters and marathons (M) 800-1100 meters. Different dogs obviously have different form over various distances, just as horses do.
On the whole greyhounds are sprinters, and so most races are middle distance or sprint races and races rarely go longer than one kilometre. The 3 most standard distances are 480 meters (525 yards), 500m (547 yards) and 515 metres (563 yards). As a rule sprint races are half an oval (2 bends), middle a whole circuit (4 bends), stayers 1.5 circuits (6 bends) and marathons two circuits (8 bends).
Traps can be removed rapidly to the side so the way is clear if the dogs are racing more than a sprint. In Ireland you will find most race distances still indicated in yards. Race length is clearly visible on the race card. There are some hurdles races in greyhound racing, and these are denoted as (H) or (CH) for chase hurdles.
How to Bet on Greyhound Racing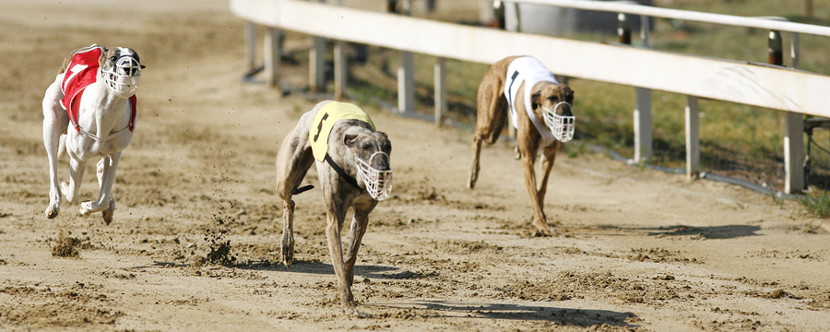 Greyhound racing has a lot of similarities to horse racing when it comes to the bet types and systems available. Some bet types are more popular with dog racing and we will discuss those here.
Detailed articles on how to bet, bet types and popular offers can be found in our betting guides and betting offers sections.
Win, Place and Each Way Betting
The most common betting market for greyhound is still the typical outright winner single or each-way bet. You can pick dogs by their form, name, number or simply just the favourite.
With usually just 6 dogs competing in any one race it is quite attractive to try to pick an outright winner. Place and each way bets are typically the first two places and generally 1/4 or 1/5 of the winning odds. Races with 8 runners will usually pay 3 places.
Most offers apply to this type of outright betting, especially on Sky televised races. Visit our top greyhound bookmakers to find the top offers or see our greyhound offers section.
It is certainly worth shopping around for outright odds, nearly all bookies will provide outright lines at the very least and this is a competitive market.
Starting Price
What is a starting price in greyhound racing? When placing a bet you can either choose to take the fixed-odds from a bookmaker at the time of the bet or take the industry price on the dog when it comes under starters orders, known as the starting price (SP). If you are not taking the SP you may be better off with a best odds guarantee.
Favourites
What is a favourite in greyhound racing? This is the dog with the lowest odds price and this can change several times before the start in close races. The greyhound with the lowest SP price before the off is the official favourite. You may choose to back the favourite irrespective of who it is. Many coupons will allow you to back the second favourite too.
Forecast Betting
Forecast betting is even more popular in greyhound racing than horse racing. This is possibly due to the smaller and predictable fields of 6 dogs. Most bookies offer forecast coupons for dog racing.
Straight forecasting allows you to pick the dog to win and the dog to place second and tend to give high odds. Reverse forecasts allow you to pick the dogs that will finish in the top two places but in any order, offering lower odds but being easier to predict. Tricasts, trifectas or trios allow you to pick the dog that will occupy the top 3 places either as an exact order or any order. For pari-mutuel bets see tote betting below. Click this link for more information about how to place a forecast bet.
Combination Bets
Another popular greyhound bet similar to a forecast. Here you are picking 3 or even 4 greyhounds to occupy the top two places, this is a collection of multiple forecast bets. For example picking 3 dogs for the top two places is actually 6 straight forecast bets or 3 reverse forecast bets.
Ante Post and Early Price Betting
An ante post bet is generally defined as any bet placed more than one day in advance of a race. An early price is usually defined as the price on the day up until about 15 minutes before the race when you will need to take either the SP or a bookmakers alternative odds.
Most bookies will provide ante-post lines although beware these are not always afforded the same protections. For example bookmakers that offer best odds guarantees on greyhound racing will include early prices but generally not ante-post prices. Ante-post betting is useful if you think a dog is undervalued and will come in by the SP.
Tote and Totepool

Tote and totepool betting is available for greyhound racing and is one of the only other sport other than horse racing with wide ranging pari-mutuel betting options. The system is simple rather than taking a fixed odds price from a bookie you are betting with your peers. Winners share a slice of the pot and this can often pay higher amounts than fixed-odds betting. The more popular the race the higher the pot, but also potentially the higher the share. The tote is fairly cheap to play (£1 or £2 min stake) and can offer a fun way to cover multiple greyhound races without shelling out a ton of money.
Not all race meetings are covered and not all totepool betting options are available but you should be able to bet totewin, toteplace, toteeachway, toteplacepot, toteexacta and totetrifecta and for larger meetings and finals you can usually place a totejackpot and other totepool bets. For a full list of totepool betting options, how to place them and where to find the best offers read our tote articles.
Favourites Performance
This is a points based betting system offered by some online bookies. Usually you will predict the number of points scored by the favourites at a given meeting. There are usually 25 points for a win, 10 for second and 5 points for third place (dead heats are a split of the points, e.g 2nd place dead head = 7.5 points).
With co-favourites the lowest race card number is taken as the favourite. A fun bet to play when you can find them.
Trap Betting
Lines are sometimes available to bet on the trap that will have the most number of winners in a race meeting. This is cumulative across the whole card and is not offered by all betting sites.
Best Odds Guarantee

Some bookmakers offer best odds guaranteed on greyhound racing and will give you the SP if it is higher than the fixed odds price you received. This means if the SP is higher than your price you will automatically be given the better terms.
It makes sense to bet with a bookmaker offering the best price guarantee as this can add extra value and security to your bets. Not as many bookies offer BOG on greyhounds as horse racing and there are more restrictions on raced. A list of UK betting sites offering best odds guarantee on greyhounds can be found here.
Disqualification and Non-Runners
If you bet on a specific dog and it does not run prior to coming under starters orders the bet will be declared void and your money returned. If you have bet on a trap number the bet will be transferred to the reserve dog unless no reserve is in place where again the bet will be declared void.
Reserves are usually in place for advanced rounds such as semi-finals and finals. If a race is not run all money on that race will be returned.
Race Card
The race card for greyhound racing is a little simpler than the horse racing version. The nature of the greyhound racing also means it is a little more difficult to study form due to the longevity of the racing dogs. A greyhound will not race until it is 15 months old and will retire between 3-5 years of age. This means there is a high animal turnover and so lots of regular surprises. Saying that there are still plenty of variables to be aware of that can give you an advantage if you do your research, and by studying the racecard you can make more informed choices.
Most UK online bookmakers will display some sort of racecard for dog racing and we show you here and in the next section what a few of those terms mean.
The large number displays the trap allocated to that dog and the name is the name of the greyhound. The other names on the card will indicate the owner and the trainer. In greyhound racing quite often these are the same person. Underneath the greyhound's name you may see a form guide indicating the number of races run by the animal with the number of 1st and 2nd places. Sometimes there may be a list of the last 5 or so races showing distance, place at each bend, distance won by, the actual winner of the race, the time the race was won in, the sex of the dog and the weight of the dog. Most of this information is not displayed on the betting coupon but can usually be found in form and statistics guides offered by the best greyhound betting sites.
At the top of the card and on the betting coupon there will be an indication of the race distance of the current race. Also displayed is the race class, the going (slow, normal, fast or wet) and racing remarks.
Greyhound Racing Types and Terminology
BAGS and BEGS
In greyhound racing there are 25 Greyhound Board of Great Britain (GBGB) regulated stadiums in the UK and several independent tracks, known as Flapping tracks. The Bookmakers Afternoon Greyhound Service (BAGS) and the bookmakers evening's greyhound service (BEGS) is a programme of greyhound races in either the morning / afternoon (BAGS) or evening (BEGS).
Most of the GBGB regulated tracks run BAGS and BEGS races. Most BEGS and BAGS races are broadcast live on Sky or Racing Post TV, are supported by the full satellite information service and offer the highest payouts.
Greyhound Race Grades and Classes
Open races (OR on a racecard) represent the highest class of racing in the UK with two divisions. Major open races made up of category one, two and three and minor open races. In Ireland the top middle distance races are known as AAO's. In the USA top races are called Racing Secretaries A Class (RSA), In Australia group races are usually called Free For All's (FFA).
Most races held around the world are Graded Races (GR). 'D' denotes a sprint race, 'A' middle distance, 'S' Stayer and 'H' for hurdles. For example A-1 is a top grade middle distance dog that will run at up to 40 mph. Grades can go as low as 10 or 11 and the level of graded race depends on the race and the track. The grade of a dog is a good indicator of its proven ability. In open races dogs of mixed grades can race each other, in graded racing all the dogs in race will have the same class (e.g. an A-6 race).
Greyhound Racing Distances
Greyhound races tend to be measured in the metric friendly metre in the UK, in Ireland many races are still primarily listed in yards but most race cards will display both formats. The three standard middle race distances in the UK 480 metres, 500 metres and 515 metres.
Distances are variable depending on whether it is a sprint, middle, stayer or marathon race, this also depends on the size of the course.
Seeding in Greyhound Racing
Some dogs prefer to run the shortest distance and are known as 'railers' and are best suited to the first traps. Other greyhounds prefer to run wide near the outside of the track where the hare goes, these are 'wide runners' and are best suited to the end traps.
The rest of the dogs prefer the middle ground and these are predictably known as 'middle runners' and are best suited to the middle traps.
"Going" – Ground Conditions
Slightly simpler than horse racing. Track condition is indicated as fast, normal, slow or wet track. Dog races tend not to be abandoned with weather as much as horse racing as there is less risk to the animal of injury.
Fog is basically the only thing that will stop a greyhound race. The short distances and high speed racing means track conditions can have less of an effect than in horse racing.  Dogs are also far lighter than horses and so don't get bogged down in heavy ground. There's still a lot to think about though. For example, in a wet race the inside track will become waterlogged first potentially disadvantaging those dogs on the inside rail.
Dog or Bitch?
Gender is important when it comes to consistancy. Dogs are seen as more consistent than bitches, especially at middle distances. This is mainly to do with bitches' seasonal variation due to females going into heat. There are of course exceptions to this rule. In the UK dogs are denoted by a 'd' on the card and bitches with a 'b'.
Handicapping in Greyhound Racing
Many years ago hanidicap races were common in the UK and a lot of fun to watch. In modern times these have all but died out. This race would mix dogs of different grades together with staggered traps so that the dogs of the highest ability would have to run further. A huge amount of fun to watch if you can ever find one.
Weight and Age in Greyhound Racing
Greyhounds can race from 15 months old but until they are a full 2 years old they are classed as puppies. A greyhound's racing peak for middle distance is usually around 30-36 months although many dogs that enter racing early can mature as early as 21-30 months. The sprint racing peak also tends to be younger. Dogs over 36 months tend to move down to lower categories but can keep going up to 80 months in some cases.
Dog weight range is much tighter than in say horse racing. Most male dogs weigh between 28-36 Kg (60-80 Lbs) standing around 70-75 cm tall. Heavier dogs tend to be taller so have a longer stride length. Bitches tend to weigh less (22-31kg) and are not as tall (68-71cm), this can allow them to move into gaps that some dogs cannot fit into.
Greyhound Pace
Greyhounds have their own style of racing. Some dogs have early pace, middle pace, finishing pace or all round pace. You can spot these dogs by looking at two statistics. The first being the split times and the second being the recorded position on the bends. A dog with finishing pace will have the fastest split times at the end and if it's say a middle distance race with 4 bends the bend position may look like 4,2,3,1 for example.
Racing Remarks
You will find these on the race card in short code. These are observations about the dog from previous races. A few examples: vsv – very slow away, aled – always led, fw – finished well, etc. Studying these in combination with split times and bend positions can give you a fairly good idea of how a greyhound is going to race.
Live In Play Betting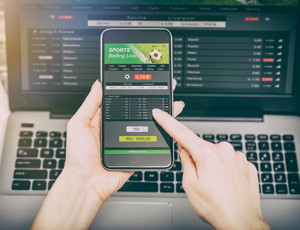 Live betting as such is not really possible on greyhound racing but saying that you can bet on races right up until the race comes under starters orders.
Saying that some bookies now offer live betting on horse racing so perhaps soon you will also be able to bet on a live dog race too.
The beauty of greyhound racing is they are quick, a middle distance race is around 30 seconds or so, not much time to bet in play. Many bookies will offer commentary and streaming and with a race every 10 minutes or so it is a sport for live betting.
For information about individual bookmakers live betting, news and streaming services see our betting site reviews.
News, Results and Statistics
Out best bookies for greyhound betting at the top of this page shows the bookies with the best news, results and statistic features. Information displayed on the betting coupons is fairly sparse so if you want to study form you are going to want to pick a bookie with great support features.
William Hill have superb from guides with news and blog features and Sky's associated Sporting Life is a great resource for news and results. With many bookies now offering results and statistics guides it makes sense to bet with these features.
Live Streaming and Commentary
Streaming is not quite as wide spread as with horse racing but enough bookies now offer it that you should be able to at least listen to commentary on any given race. Most of our recommended bookies offer free streaming of races on Racing Post TV (available on Sky) and Sky Sports.
With most streaming bookies all races on RPTV are free but you will need to bet at least £1 to watch the others.
Best Greyhound Races UK
There are tons of greyhound races and competitions in the UK.
Here we show you some of the top and most famous races / meetings. Expect to find some decent offers and prices from bookeis for many of events.
English Greyhound Derby – Going back to 1927 in 2015 the prize for the winner of this classic race is £250,000. The competition has 6 rounds with about 180 entrants and is run from late May to Late June each year. Originally held at White City from 1927 for nearly 60 years the race was then held at Wimbledon stadium until it was closed in 2017 and demolished in 2018, the derby is now held at Towcester racecourse. The race is run over 500 meters.
Scottish Greyhound Derby – Another original classic held at Shawfield stadium in late April. The race is also held over 480 metres with 36 entrants and a top prize £20,000 to the winner.
Irish Greyhound Derby – Held at Shelbourne park in south Dublin this is the top Irish greyhound race. Another classic first held in 1928, the race is usually held in mid-September and is run over 550 yards.
Northern Irish Derby – Relatively new race first run back in 2011. The race is also held over 550 yards at Drumbo Park. 36 entrants compete for a top £25,000 prize.
The Oaks – A classic category one race run at Belle Vue and confined to bitches, first run in 1927, top prize around £15,000.
The St Leger – Held at Wimbledon this is a classic stayers race. This Cat One race is run over 687 metres, first held in 1928 and held at Wembley until 1998.
Grand National – The top hurdle race, held at Central Park (formerly Sittingbourne) and again a classic dating back to 1928. Held at White City until 1984, then Hall Green and Wimbledon before moving to Sittingbourne in 2012.
Other Famous Races – Top greyhound races on the calendar include the All England Cup held in Newcastle, the Golden Sprint, Essex Vase and Champion Stakes held at Romford, the Arc and Produce stakes run in Swindon, Laurels at Belle Vue, Produce Stakes and Eclipse at Nottingham, East Anglian Derby in Yarmouth, Steel City Cup in Sheffield of course, Gold Cup and Summer Stayers competed at Monmore, Regency and Sussex Cup in Hove, Henlow Derby, Lowther Stakes in Towcester and the Sunderland Classic and Grand Prix.
Category One – Run with between 1 and 4 rounds in a maximum 15 day period, minimum prize money of £12,500.
Category Two – These races have 1 to 3 rounds in a maximum 15 days, minimum prize money for this category is £5,000.
Category Three – Usually with only 1 or possibly two rounds within a 9 day period but generally run over one day, minimum prize of £1000.
Odds and Payouts
Odds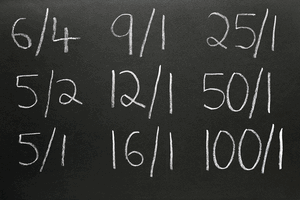 Odds for outright lines are fairly competitive for major races and most bookies will give odds for those at least. Odds can be compared on odds comparison sites. As a rule it helps to bet with the bookie that has the best fixed odds and a best odds guarantee promotion. This way, if the greyhounds price drifts out and the SP is higher you will automatically get the higher odds.
Enhanced odds promotions, extra places, price promises and free bets can be found quite often for televised greyhound racing especially those in association with Sky Sports. For a list of regular greyhound offers see our betting offers section.
Payouts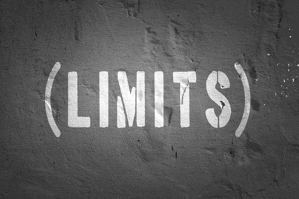 Greyhound racing offers good payout limits for major races. There are a lot of greyhound meetings so do check the grading as some events classed as minor can sometimes have massively lower limits.
As an example Bet365 payout limits for greyhound racing:
£1,000,000 for all single, forecast, tricast and ante-post bets on BAGS and BEGS meetings, and those covered live on Sky Sports.
£100,000 for multiple bets placed on the above.
£25,000 for non BAGS and BEGS meetings at Belle Vue, Coventry, Crayford, Hove, Monmore, Newcastle, Nottingham, Oxford, Perry Barr, Peterborough, Romford, Sheffield, Sunderland, Swindon and Wimbledon.
£25,000 for all other meetings that are published on the website (except exceptions stated below).
£10,000 for non BAGS and BEGS meetings at Cenrtal Park and Kinsley
£10,000 for all other Greyhound Racing not listed above.
If you like to bet on races one after another you may also want to consider payout times. Greyhound races can be as little as 10 minutes apart so you will want to find a betting site that will settle your wager as quickly as possible to free up funds for the next race if you are going to bet on it. Some bookies are better than other at this.
More Greyhound Racing Articles