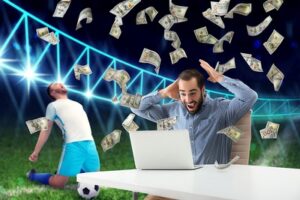 First, last and anytime goalscorer markets are some of the most competitive lines offered by the bookies. Combined with some fantastic regular and temporary offers goalscorer betting, done well, can be a fantastic value wager.
Needless to say you shouldn't just place your goalscorer bets with any old bookie or using any old offer. There are also some critical pieces of advice that can really add up over time, such as never bet on 0-0, instead bet on 'no goalscorer', these lines usually have the same odds but the 'no goalscorer' market usually doesn't include own goals.
In this article we discuss some of the best places to place goalscorer bets and some of the best offers to take advantage of. We talk about betting strategy, rules and how to combine goalscorer bets with other related markets.
Best First, Last, Anytime Goalscorer Bookmakers
18+. Play responsibly, BeGambleAware, for help quitting visit
Gamstop
. #ad.
Bet365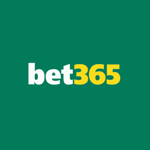 Bet365 are the industry leaders for goalscorer betting in our opinion, it's where we personally choose to bet most for this market. The site is reliable for depth of markets, advance prices and good odds with a consistently good interface pre-match and in-play.
On occasion you will find offers that give you better prices elsewhere but on balance for consistent value on goalscorer markets bet365 is the stand out choice. They were one of the first sites online to provide goalscorer bets and they have lead the way in devising many of the variations within it.
The site has a long term promotion available that is applicable to goalscorer wagers that you can read about below.
Have an Each-Way First Goalscorer bet on any match with bet365, and be safe in the knowledge that if your player scores at any time during the game bet365 will pay you out! Each-Way bets are settled on all goalscorers, at 1/3 odds for unlimited places in 90 minutes play. T&Cs apply, 18+, begambleaware.org Registration required. #ad
BetVictor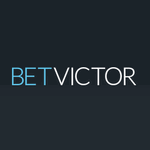 BetVictor are all about the best odds and occasional bonuses. If you want a bookie that will reliably have the pretty much the best odds week by week then this is your goalscorer betting site. Depth of market, availability and range are all there.
For top games BetVictor also regularly run first goalscorer bonuses, this is common in the champions league and premier league. A typical example would be 'place a £5 first goalscorer bet on the premier league this weekend and get a £5 bonus to be used on another FGS market win or lose'. These offers are fantastic value and also don't require high stakes.
Terms and Conditions Apply 18+ BeGambleAware.org #ad
Betfred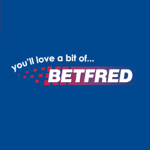 Betfred pioneered the first goalscorer insurance offer, I am sure you have heard of it, it's called double delight and hattrick heaven. This offer has been running for years and is one of the best value and most reliable promotions you will find. This means if you back a first goalscorer and they score 1st but go on to score again you will get double the odds on your bet. It gets better, if the player goes on to score a hattrick then you can get 3x the price.
This deal is available on all major football and over time this deal really can add up. It is even available in play. All you need is a player like Mo Salah or Harry Kane to be in form and you can turn a 4/1 into a 12/1 punt.
Terms and Conditions Apply 18+ BeGambleAware.org #ad
Ladbrokes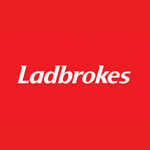 Ladbrokes are all about great standard odds with unbelievable price boosts. The bookie will regularly boost a whole swathe of goalscorer lines by more than any other bookie. A typical price boost from Ladbrokes can add 25% or more to the standard odds price.
The betting site don't boost lines that are unlikely to win either, instead they will enhance top goalscorers in top matches and this can be great value over time. It is certainly worth holding an account if you place goal scorer bets, or any football bets in general, simply check out what price boosts are available before you take a price elsewhere.
Terms and Conditions Apply 18+ BeGambleAware.org #ad
Goalscorer Promotions For All Customers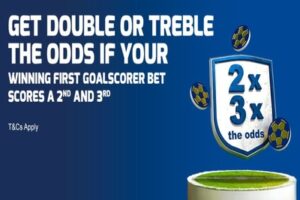 Being one of the most popular markets around quite a few of our listed operators run goalscorer free bet, money back and bonus promotions. You can find full details of the best value and most useful long term deals in our football goalscorer offers article.
Most goalscorer offers tend to be temporary and therefore it is worth having a few different betting site accounts in order that you can take advantage of these as they come about.
For high level matches especially expect to see at least one or two offers floating about; either money back if something happens (red card, penalty, a certain other player sores instead, your player scores second, etc.) or a linked free bet (bet £5 on a goalscorer get £5 free in play, etc).
In general goal-scorer markets are quite large as they contain all possible scorers in a given match.  You will tend to find the prices for headline players are very competitive but the further you go down the list the more it is worth shopping around for an offer or the best odds to add value.
Beware of Related Contingencies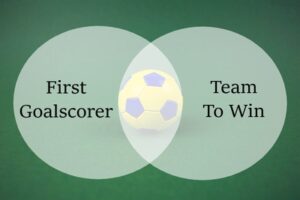 It is worth being aware about related bets when it comes to goalscorer betting.
Related bets are simply linked markets, and because they are linked you cannot combine them into multiple wagers. For example, it is not possible to bet on a first goalscorer and the team to win as a double bet; this is because one component of the first goalscorer bet includes the increased likelihood of that team winning, or indeed decreased likelihood of the team losing. This is why in order to combine goalscorer markets with other markets, such as match result or correct score, you must place special bets such as scorecasts and wincasts.
Wincast and scorecast wagers have lower odds than would be possible if you were to combine both markets in a conventional double. The reduced odds reflect the adjustment for the related contingency (e.g. both bets include the possibility of team winning as a component of the odds price). These bets can still be huge value especially when individual goalscorer odds are low.
You can read more about related contingencies and about scorecast and wincast betting in our dedicated articles.
Types Of Goalscorer Betting Markets and Odds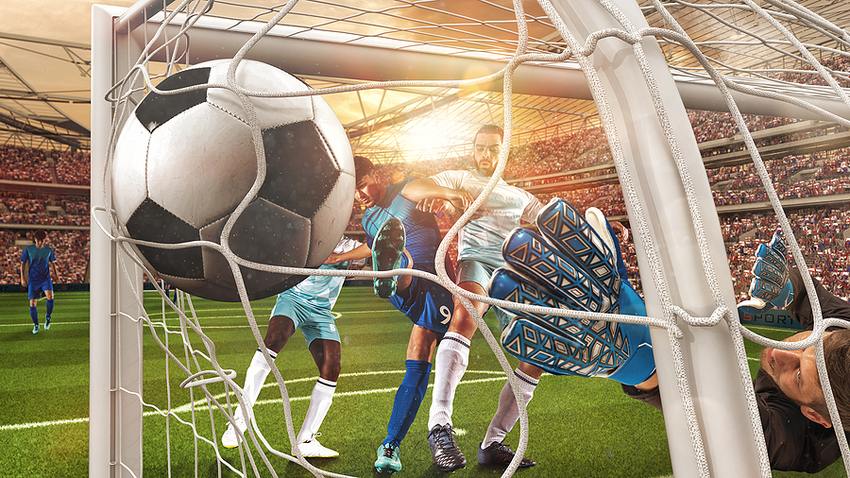 There are many types of goalscorer wager other than the most common 1st goal scorer market.
In this section you can see different types of wagers available and their relative merits.
First Goalscorer (FGS)
The most common bet first goalscorer may be but this also means it is the most completive market. Competition is good for the punter as bookies operate lower margins and will even run these lines at a loss to attract customers.
1st goal scorer odds are generally between 3/1 (for a top striker) up to 50/1 (for a one goal a season defender) or more. Obviously the chances of scoring first are harder than scoring at anytime and you can see this in the price.
This is the best market of this type to get offers and promotions such as matched free bets and money back deals. If you are regularly placing sensible goal scorer bets (sensible meaning on players that are actually likely to score first) then this market, combined with the multitude of offers, can be very good value. It is always worth checking odds comparison websites as well as checking out the latest offers for this market.
Last Goalscorer (LGS)
The last goalscorer market is very similar to the first goal scorer but is hardly ever used. The odds on the same player to score last can sometimes be slightly lower than to score first. This is mainly because the first goal is generally the hardest to score and subsequent goals tend to come later in matches when the game is more open. Still this is a very sensible bet, especially if betting on players that are more outsiders.
For example, a defender is less likely to score first than they are to score last and at the end of a game players will take more risks, e.g., defenders go up for corners, etc. Therefore, used well, this market can be as equally valuable as FGS. Last goal scorer lines are provided by every bookie worth their salt and are competitive, although you wont find too many specific deals around.
Anytime Goalscorer (AGS)
Anytime goalscorer is the second most popular goal scorer bet and something of an online betting phenomenon. Prior to online gambling this line was rarely offered by bookies and you would usually need to ask for odds. These days it makes an attractive alternative to FGS and LGS betting.
Anytime goalscorer lines have the lowest odds compared to FGS and LGS, this is obvious as the player has the whole game to score rather than the stipulation to score first or last. Conversely this is a better line to bet on if you want to stay in the game longer. Of course if you back an FGS and another player scores your bet is immediately down, however, if you back and anytime goal scorer all that player needs to do is score at any point in the game for you to win.
The lower odds of this line, especially for top players (can often be under evens), means this is a great line to combine with other wagers. Anytime scorecast and anytime wincasts are a great option to enhance the odds of these lines. Bookies also regularly run special markets including anytime goalscorers, such as, 'player X to score anytime and both teams to score'.
AGS lines are now as equally competitive as FGS so it really is worth shopping around. There are also now tons of offers available too that can really add value.
No Goalscorer
You can quite easily bet on no one to score during a match. This line is not hugely popular and whereas the odds will be fairly decent you are unlikely to find a huge amount of price variation, I personally have never seen a no goal scorer offer.  This is possibly because it is not a very fun wager wishing for no goals.
See the section below too on no goalscorer vs 0-0 betting – now that is a scenario where you would want to use this market.
Top Goalscorer / Golden Boot
This represents the second most popular bet at the start of a tournament or league season. For the best players the odds can be excellently priced with many bookies even running this as a loss leader to get you on board for the whole tournament.
Wait until a day before the start of the league or tournament before placing this bet to get the best of the offers.
Player to Score 2 or More Goals
For the best players in form this bet can be a great way to get higher priced odds if you think they are likely to score more than one. There are two ways to play this. Firstly you could bet directly on a player to score two or a player to score a hat trick, these will have great odds but, of course, if the player scores just the one goal you don't get a payout.
The alternative is to take advantage of an offer such as Betfred's Double Delight / Hattrick Heaven. This will give you double / treble the odds of your original first goalscorer bet if the player scores two or three. The overall odds are lower that betting directly but this way you do still win if the player scores just the one goal.
Goalscorer Accumulator Bets, Wincast and Scorecast
It is possible to combine a goalscorer bet with any other bet so long as they are not linked (see related contingencies above). If the bets are linked you will need to use the special bet types available such as scorecast (goalscorer and correct score), wincast (goalscorer and match result) or other specials. These carry much higher odds than goalscorer bets alone. Find out more about this in our scorecast and wincast article.
Player not to Score
Not exactly the most popular of wagers but you will find this available with some betting sites with large depth of market. This line will usually have very poor odds, certainly under evens, although it can be useful for certain players like Cristiano Ronaldo or Lionel Messi; for these types of players the odds can on occasion can even be better than the odds for them to score.
If your bookie doesn't offer this market then contact them and ask them, they will usually give you odds although they may not be highly competitive.
Each Way First Goalscorer Betting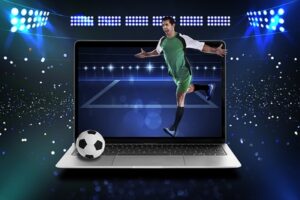 An each-way bet is a great way to stay in the game and a very useful wager for players with longer odds.  The each way bet has two lines, the first is a win only bet placed on a player to score first, the second is a place bet that will payout if the player scores second (or third, etc., depending on the number of places).  This is the same principle as betting on a horse or any other market each way, see the examples below.
If you back a FGS each-way you will usually get around 1/3 to 1/4 the odds for the each-way component. This way if the player scores second instead of first you still win the place part of the bet. If the player scores first you win both parts of the bet. In this example you back a player to score first at 10/1 at £10 each-way, the following payouts apply, assuming ¼ odds each way:
Player scores first – £100 payout for the win part of the bet (+£10 stake back) and £25 payout on the place part of the bet (+ stake). Total payout including stake £145 from a £20 bet.
Player scores second – No payout for the win component so you lose you £10 stake. £25 payout on the each way bet, and your £10 stake back, £35. That's a £35 payout from a £20 bet.
The alternative to each way betting is to back an anytime scorer. In the above example a player with typical FGS odds of 10/1 will have anytime odds of around 7/2. If you were to whack your £20 stake on this instead you would get paid out £70 and £20 sake back, £90 total, no matter when the player scores.
Own Goals, Substitute & Sending Off Rules
You may well have questions about a specific set of circumstances with regards to goalscorer bets, and they should be answered in this section.
What Happens with Own Goals in Goalscorer Bets?
Own goals generally do not apply to goalscorer bets. This means if, for example, you back a first goalscorer and the first goal is an own goal then the it is the next goal in the game that is classed as the first in terms of the wager. Conversely, this also means if you back a player to score and they score an own goal you will not be paid out. It is still worth checking the terms first with your bookmaker.
You can bet on own goals to be scored in a game as a separate line.  Even if this line is included in the goalscorer market it should not effect the own goals rule described above. Backing an own goal can often give decent odds of around 8-10/1.
What Happens if a Player Doesn't Start?
If your selection doesn't start the game then the bet is still live so long as the player is on the substitutes bench, if not the bet is void immediately. If you back a first goalscorer then there is still a chance your pick could score the first goal if they come on as a substitute. The bet in this instance is live until the first goal is scored. If your player is on the field at the time of the first goal then you lose the bet, if they haven't yet come on the wager is void and you get your stake back.
If you place an anytime scorer bet then this wager is live until the end of the game as the player can come on anytime and score. If your player comes and doesn't score you lose your bet, if they don't come on you get a refund. If you've placed a last goalscorer bet then the wager will again be live until the end of the game.
Each ways bets are treated as two components. The FGS part of the bet remains live until the first goal, the EW part of the bet is live until the number of places are reached.
What Happens if Your Player is Taken Off?
Obviously you will lose an anytime scorer wager as your player had the opportunity to score by being on the pitch, even if not for 90 minutes. In the case of a first and last goalscorer the same logic applies even if your player was on the field and taken off before the first / last goal was scored. If your player scores, is taken off, and that remains the last goal you will still get paid out.
What Happens if your Player is Sent Off?
In terms of the bet this is the same as a player being taken off as a sub.  The player has been on the field and so any existing goalscorer bets are lost.  If the player that is send off has scores first, last or anytime before being shown a red card then your wager still stands
and you will be paid out as normal.
No Goalscorer Vs 0-0 Betting – Which is Best?
Many people bet on a 0-0 draw when they could be getting far better terms and value by betting on No Goalscorer instead.
More often than not the no goalscorer and 0-0 correct score market have exactly the same odds, yet the no goalscorer market generally excludes own goals.
This means a game that finishes 1-0 with the only goal being an own goal will still payout on the no goalscoroer market but not the 0-0 correct score.
An own goal happens in around one out of every 50 games and for some unfortunate teams less than 1/20.  If you place a lot of these types of bet then over time you would get more value from a no goalscorer compared to 0-0 bet.
As they say look after the pennies….
Goalscorer Betting Strategy & Alternative Markets
The section above sections explain the major goalscorer markets and rules that apply, however, there is much more to be aware of to get the best out of those wagers.
In this section we discuss goalscorer betting strategies, that if used sensibly, can enhance your winnings over a period of time.
Remember, no betting strategy guarantees a win but by following a few rules you can ensure you are getting the best possible prices when you do win.
Pick Players Likely to Start and End the Game
Looking at the examples in the last section of what happens if your player doesn't start or is taken off it really makes sense to back a player that is more likely to start and finish a game; unless that is, you have strong feelings that a player will score even if a substitute. Generally central midfielders and defenders are less likely to be subbed with wingers and strikers the most likely.
Wait for the Team to be Announced
The starting 11 is generally announced an hour before kick-off, why not wait and back a player you know is going to start the game? An hour is plenty of time to look up the team and place your bets and the odds will not move very much during this time, especially if you get in quick.
Bet In Play if Your Player isn't Starting
If you want to back a player who is on the bench but you think they will come on and score then wait and bet live during the game. This way you will get at least the same or generally better odds on the player to score and you are in more control.
Cash Out
If you've backed a player to score first or anytime and it looks like they might be about to come off then quickly cash out your bet. This way you will still not get your stake back but you won't lose the whole amount. This could happen if you see a player in a bad tackle or you simply get an inkling from experience that they are likely to be subbed.
Look Out For Deals
I know it sounds obvious to shop around for the best deals but so many people sign up to just one bookie and place their bets with them even if they could get better terms elsewhere. By signing up to a range of varied bookies you can have a quick scan for the best odds or offers and go with that betting site on the day. If you were to sign up to our recommended goal scorer bookies at the top of this article and go with the best one for your bet each week then, over time, this is the single best way to add value to your wagers.