The fourth largest UK bookmaker, Betfred are popular with their customers for having pioneered a lot of things we now take for granted in bookmaking, such as price guarantees on horses and the lucky bet type. They are great for horse racing and football in particular but have a huge range and good value on all sports and events.
Betfred have top value offers and a plethora of regular bonuses for their customers, earning them the nickname 'The Bonus King'. Betfred's existing customer promotions are not just plentiful but they are good value too, tried and tested over many years.
Betfred stream all horse races in the UK and Ireland (as well as other sports) and were also the owners of the Tote for a time, and are still associated with this kind of betting. With commentary available on many sports via their radio service, reliably good odds and an easy to use interface, Betfred are a good addition to the betting portfolio of any UK punter.
The Bonus King – Outstanding offers and promotions that just keep coming.
Race Streaming – Every single UK & Irish race available live.
Totepool – Best all-round bookmaker for horse & greyhound racing.

Welcome Offer: Bet £10 Get £40
New UK 18+ only. Register with promo code WELCOME40, Bet £10+ on Sports in one transaction. Get £30 Free Bets & £10 free spins within 10hrs of bet settlement. Bonuses expire 7 days after issue. Min odds, eligibility & payment exclusions apply. Full T&Cs apply.
New customers only T&Cs Apply, 18+ BeGambleAware.org / Gamstop.co.uk #ad
The Tote
Between 2011 and 2018 Betfred owned and ran the Tote, and this put them in a unique position as the only bookie to be able to offer such a service. Those days are now gone but they remain the default bookie for many who like to bet in this way, so it is only fitting to talk about it a little now since it plays such a big part in the betting experience at Betfred.
The Tote is a type of pooled betting, a little bit like a lottery. All of the money staked on a particular race goes into one pot and that pot is then split equally among the winners based on their stake size. So the share of the pot that you get depends on how many other people also picked the winner and how much they bet in comparison to you. If you're lucky you will get the lot, if there is one other winner you will have to split it. Betfred will take some money from the pot before the total is split as their cut.
There are various different bet types such as totewin, toteplace, totescoop6, totetrifecta, but we can't cover them all here. They aren't difficult to understand though and the concept of tote betting is very popular as you are betting peer to peer rather than against the bookie.
Betfred became the owners of the Tote after a successful tender/bid, and therefore owned exclusive rights to tote betting in the UK for a time. British Horse Racing and Betfred had a frosty relationship from the start, and by 2018 Betfred's contract ran out, so while they still offer tote betting they no longer have exclusive rights, and the UK Tote Group now own the Tote betting brand.
Tote History
The Tote was actually instigated by Sir William Churchill, in part as a way to regulate the betting industry and in part as a way to raise money for the government. The result was the first and only publicly owned bookie in the UK.
1929 saw the first bets being taken and over the decades the Tote became something of a British institution. However, by 1972 and with privately owned bookies leaving the Tote in the dust, they began to allow betting on all sports in an effort to catch up. This kept them alive and brought them inline with the rest of the industry.
Privatisation was first suggested in 1989 but it wasn't until 1997 that the wheels really started turning after Jack Straw looked into it again then made it a manifesto promise in 2001. It took 7 years for them to start accepting offers on the open market, however, and a further 3 before the deal with Betfred was finally agreed.
Range of Betting Markets
Like many of the more traditional shop first bookmakers, Betfred have a history steeped in horse racing that began long before many of these modern sports grew popular. This is something they still focus on heavily which means that Betfred more than almost anywhere else is the place to go if you like a few quid on the nags.
They have a physical presence at many UK race courses, and combined with streaming of all UK and Irish races, unbeatable stats, price guarantee, and a ton of horse racing related offers, I don't know what more you could want from a horse racing bookie.
This emphasis on the gee-gee's doesn't mean the rest of their sportsbook is neglected, however, as Betfred offer a respectable number of sports markets usually around the mid-twenties in number. This is a good chunk smaller than some of their rivals but the sports they don't cover tend to be the more bizarre ones, so for most punters it's got everything you want. Betfred are quite traditional in the markets they offer.
Market depth is a bit of an issue aside from a handful of categories. There are a good number of football betting lines both pre-event an in play – around 100 lines for a big events – and coverage in general here is vast. But it is surprising that sports such as snooker, where Betfred sponsor the world championship, do not have more markets. Many sports offer little more than the basics, and with fewer betting lines too.
A left field strength of Betfred is Lottery betting; you can bet on Irish, Canadian, Spanish lotteries and more, with a £1 million payout cap on the Irish lottery. There are some specials and politics markets too but again, nothing out of the ordinary. #pickyourpunt is available if you want to bet on something they don't currently list.
How do the Odds Stack Up?
Betfred, like so many other bookmakers now, guarantee odds on UK and Irish horse races – but it deserves special mention here since they pioneered this feature and everyone else followed suit. Thanks Betfred!
For odds around other sports events Betfred are usually there or thereabouts, and when you consider the number of bonus offers and promotions they run in combination then you can be sure you are getting a good deal. They are certainly living up to their self-appointed moniker as The Bonus King.
Betfred are an excellent bookmaker for regular enhanced odds promotions, and you should always look at the promotions section of the site prior to placing your bets as the chances are high you will find a promotion to go alongside. Previous favourites such as 'double delight' and 'hat-trick heaven' were fantastic: if you back a first goal scorer and they score, then score again, you get double your money back, if they score three you get treble your money back. Other regulars include bonuses on winnings, extra places for racing, acca insurance, and also some fun coupons and offers on sports like rugby.
Odds are available in fraction, decimal and American formats, and Betfred are happy to give you odds and prices on request for more bespoke markets, especially if they involve Manchester United since the Done brothers are big fans.
Betfred's Website and Betting Interface
Betfred have the kind of homepage that was probably designed as a mobile app first and foremost. It's understandable as they took a lot of flack for having a blocky outdated site in the past. They are still sticking with a tried and tested, functional approach to delivering their sports betting markets rather than trying to be too cutting edge, and in some ways this fits in with their traditional old school bookie brand, but the most recent design always feels a bit odd to me.
The top menu makes sense, guiding you to the various different products on offer, but after that everything is managed from the side menu which includes some major sports and promotions, but if you want a sport that's not there you have to open a new page within the site, so it feels a bit long winded. It also means you can't quickly jump from one sport to another.
The colour scheme is pleasing to look at though, and helpful too in that it makes certain icons stick out such as the one telling you that cash out is available. The other really positive thing is that it is built independently, so it's unique to Betfred and not a clone like so many other online bookie sites. It gets a bit boring when all the sites look the same, but you definitely won't have that issue with Betfred.
Organisation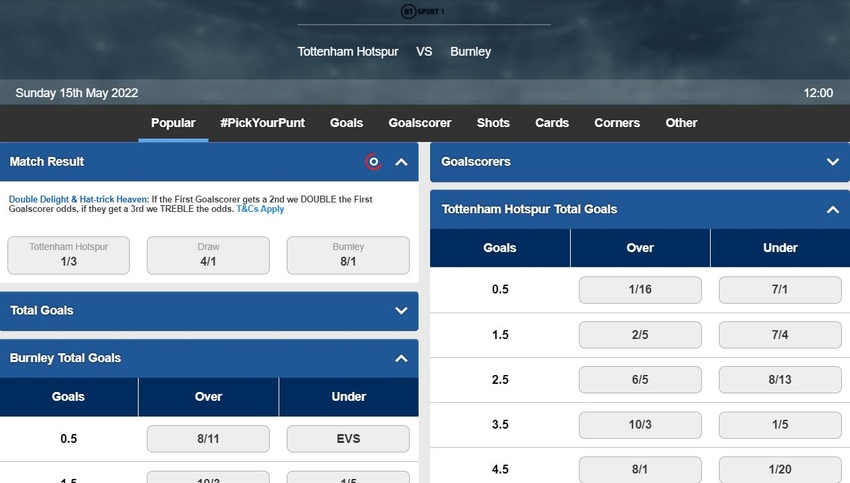 Betfred have done things a little differently here. Selecting a sport from the sports menu will open a sort of homepage for each sport. From here you have a few immediate fixtures that are in-play or about to go in-play, and then you can browse by competition, matches that will be on TV, matches included in coupons, and those that qualify for other offers. Selecting a sport, then the list of competitions, then the specific competition you are interested in, then choosing between outrights and match betting, and then finally getting to the match you want can feel like a bit of a marathon unfortunately.
It works but even with the shiny new website it feels a bit dated.
Once in event view and actually looking at the betting lines things are loads better though. You can itemise your bets by bet type very quickly using bet type menu, and you can also minimize betting lines you aren't interested in that might be taking up a lot of the page, so in a way you can control what you see. It's actually very effective and makes up somewhat for the journey to get there.
Banking & Payment Info
Deposits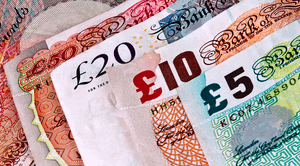 Betfred are particularly strong when it comes to payment options and currencies. In particular they have low deposit and withdrawal minimums of just £5 which makes betting extremely accessible to most people, and gives the bettor more freedom too.
Max deposits can feel quite low if you are a more affluent gambler (only £8k for Skrill), but these are the default limits so once you speak to Betfred these can be adjusted at their discretion, and if you deposit via Bank Transfer things loosen up significantly.
You can use the same account to bet by phone and to deposit and withdraw in store, although if you want to withdraw more than £250 in cash you will have to give customer services 48hours notice.
At Betfred the transactional currency is British Pounds (GBP) but you can deposit in a range of currencies which it will convert based on the daily rate in the Financial Times. You can deposit in: Australian Dollars (AUD), Canadian Dollars (CAD), Danish, Kroner (DKK), Euros (EUR), Hong Kong Dollars (HKD), Icelandic Kroner (ISK), Japanese Yen (JPY), Malaysian Ringgits (MYR), New Zealand Dollars (NZD), Norwegian Kroner (NOK), South African Rand (ZAR), Swedish Krona (SEK), Thai Baht (THB), UK Pounds (GBP) and United States Dollars (USD).
Withdrawals
You can withdraw your funds using most of the methods you can deposit with, however, you will have to withdraw using the method you used to deposit where possible.
Withdrawals are free of charge as you would expect from a respected bookmaker, although you might be charged by your payment provider in some circumstances.
The minimum withdrawal amount is just £5 across the board or £25 for bank transfers and wires, whereas the maximum withdrawal limits vary by method. There is some conflicting information on the website here, as Debit cards state no maximum but other terms state a general maximum of £20k per transaction, so best to check in with them if you are planning on withdrawing larger amounts. Some methods such as Neteller have very low limits of only £4k so choose your payment method wisely.
Whereas card withdrawals are all processed by Betfred within 48 hours (but usually on the same day), after allowing for normal banking procedures it can take 2-5 working days to appear in your account in some instances but it is usually much faster. Withdrawals can often clear in a matter of hours through other services such as Skrill, Paypal and Neteller.
Capped Winnings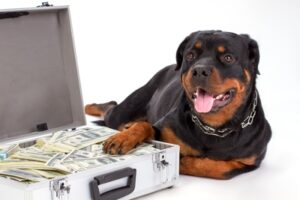 Betfred offers a middle ground when it comes to maximum bets and payouts. Minimum and maximum bet amounts are defined by the odds and selection are usually shown on the bet slip. Minimum bets can be as low as £0.05 with Betfred and maximum bets are defined by the maximum payouts.
People get caught out every year by maximum payouts yet few of us ever really think to check them before we bet. Maximum payouts can hit punters who place moderate bets on single or multiple lines with high odds just as easily as they can hit bettors who wager thousands. It is worth knowing where you stand before you place a massive accumulator to ensure your once in a lifetime win isn't overshadowed.
Betfred will payout up to £1 million on UK and Irish horse racing and £250k on greyhounds (covered by the full official information service, £50k if not), £1 million for major European men's football leagues, £500k for golf, but only £100k for other sports. Popular sports like football are tiered, so the cap is only £10k at the bottom for Australian soccer (their phrasing not mine!).
Maximum payouts are easily searchable in the FAQ's so always check before you bet. One point to note is Betfred maximum payouts on novelty and special bets is only £10k, you can get a lot higher than this elsewhere.
Any massive totepool jackpots are excluded from payout caps.
The Betfred Brothers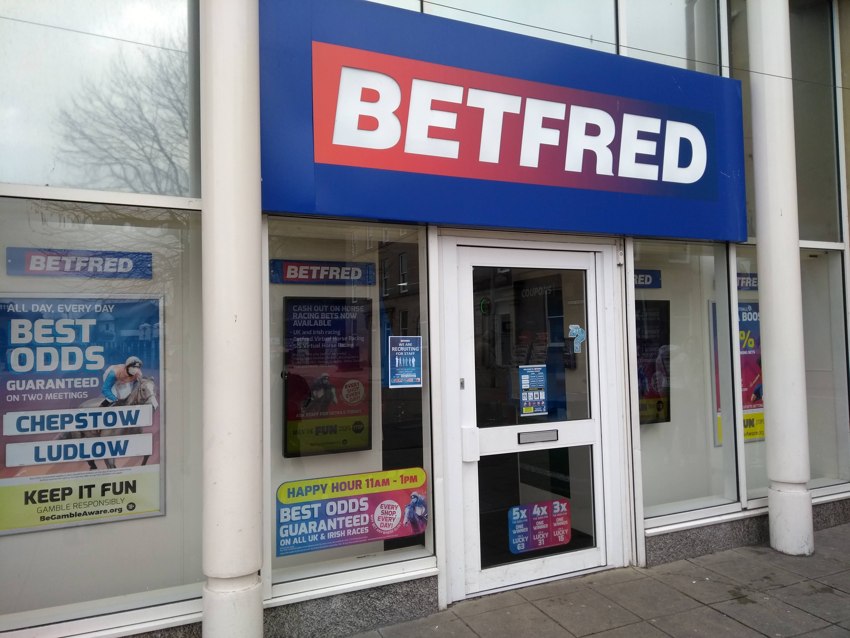 At over 50 years old Betfred are an experienced British bookmaker and claim to be the UK's 4th in stature, based in Warrington, UK, and employing around 10,000 people. Founded in 1967 by Fred and Peter Done as a single shop in Salford – partly using money won betting on England to win the 1966 World Cup – the chain went on to own 100 premises by 1997 and around 1650 betting shops today. Its telephone betting service was launched in 2002, the online site in 2004, and they went mobile in 2006.
Betfred were famously the first bookmaker to pay out early. The Dones, as unashamed Manchester United fans, paid out on them winning the league early in 1998 only for Arsenal to win the league by 1 point. They didn't learn any lessons from this and went on to pay out early on United again in 2012 only for Manchester City to beat them on goal difference.
Fred Done is also rumoured to have lost £1 million personally to bookmaker Victor Chandler after staking that amount on United finishing higher than Chelsea in 2005. If you are a Manchester United fan you would be silly to bet anywhere else, it seems you can't fail to win even if Utd lose!
Betfred can lay claim to a number of other firsts in the world of bookmaking. Fred Done invented the Lucky 15 in 1984 and Betfred created the first ever betting shop millionaire in 2004. They were the first bookmaker to offer singles markets on football bets, first to offer a 'back or lay' service on football bets, first to offer price guarantees on races, and first to offer non-runner no bet, too.
These days Betfred have thoroughly embraced the online revolution and provide a full online bookmaking and gaming service alongside their portfolio of shops. They are one of the last independent bookmakers in the UK and one of the few places where you can deposit and withdraw from your online account using cash in store.
Betfred services are available in English only but you can bet in a range of different currencies, and their services are available all over the world.
The In Play Betting Package
Live Betting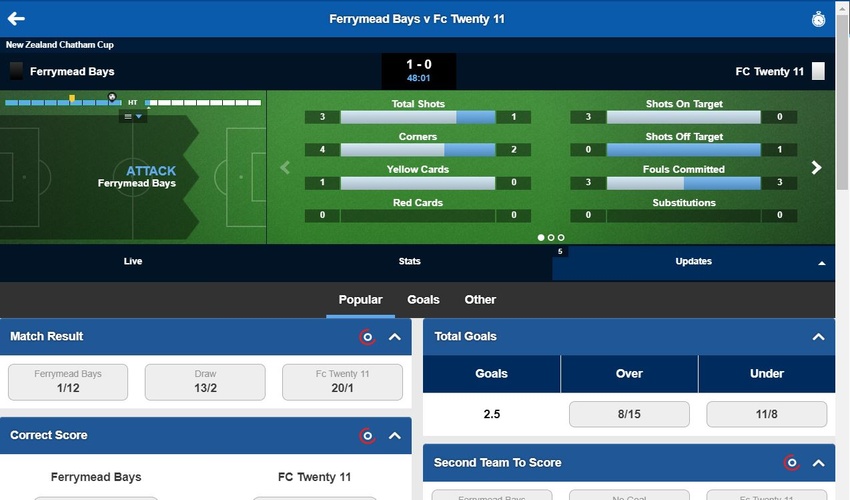 Befred's in play Watch Live service is prominent and nicely divided by sport (also showing number of events per category) and time (In-Play and Upcoming). It is one of the easier in-play systems for quickly finding the event you want. They have also decided to build the graphic into the betting interface, which means no new window pops up but it also means you can't watch and scroll bets at the same time as the stream will disappear up the screen.
The in-play interface actually works more effectively than almost every other section of the site, and there are a lot of events available too, more than others cover. The layout doesn't always serve the bettor particularly well, though, because the sheer number of markets in some categories and lack of further filtering options can leave a very long list to scroll through in certain sports.
The in-play service is not as comprehensive as other bookmaker offerings when it comes to stats etc., and not as impressive visually either, which might make it a little less entertaining for some. There are some basic match stats though, and again this is proprietary software so it's different to anywhere else and has little touches you will appreciate. For example in football, whenever there is a throw in or corner the match graphic zooms in on the area in question.
The benefit of this less jazzy service is that it is very quick to load and update, but you may not feel as engaged. It should be pointed out though that the majority of bettors will get along with it just fine.
Streaming Service
If you have never bet in-play using streaming before then you are missing out. It is a fun way to bet and watch sport at the same time and may even encourage you to engage with a sport you have never seen before.
As the biggest sponsor of UK and Irish horse racing Betfred will stream all meetings and this service cannot be matched by many other bookmakers. All you need to do is place a minimum £1 bet on a race and you can watch the stream online or on mobile. You can also stream all greyhound racing live on Racing Post TV for free.
Betfred do provide live streaming for other sports, such as football, tennis, basketball, and others, so if you like to watch your events as you gamble then you should like Betfred. The stream pops up in a new window but you can manage your betting from this window so in effect it becomes your new betting interface, and you can use this and the main site in tandem if you wish. You just need a funded account to view these streams which is generous.
Betfred are also very strong when it comes to radio commentary services. There are several streams covering horse racing, football, greyhounds, cricket, general sports news and a nice football scores stream that is useful to run alongside in-play so you can take your eyes off the screen.
Betting on Mobile
The app feels very similar to the desktop site but everything seems to work more effectively on the small screen. You will remember we said it felt like the desktop was designed as an app first and foremost and when you use the mobile app you will understand why,
The mobile app has the same size sportsbook as the main site, meaning they have a lot to fit onto a much smaller screen. The top scroll bar is really intelligible and makes light work of this though, splitting quite a large app into nice digestible chunks with in-play, football, horses, etc. and a great easy to use A-Z list accessed from the footer menu. There is also a great search function behind the main Menu tab.
Not only is the app an improvement on the desktop site, but it comes with a few features that are little gems. For one, you can set your own home screen so that the app is personalised to a degree, getting you to where you most often want to be immediately. When using the A-Z you can 'favourite' categories so that they show up first in the future, meaning if you only bet on the horses and the golf you won't have to scroll through to find them each time. There is also a fingerprint identification option which can see you logged in just a second or two after taking out your phone.
You can use the app to fully manage your account, from streaming and in-play betting to banking and viewing results history. You can even set the Betfred radio and continue betting, nothing is missing.
The only thing that lets it down is the speed. It isn't the fastest or most responsive app out there but this is the only aspect that gets in the way, and even then it shouldn't detract from the experience so much as to make you go elsewhere. If you already use Betfred then this is the perfect companion to your regular account, and if you don't but are thinking about it then there are only a handful of apps that do it better.
Cashing Out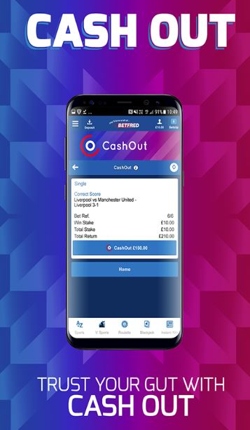 Betfred were a little late to the party with their Cash Out feature but it is now up and running and fully functional.
Cash Out offers a means of cashing in your bet for a fixed sum before the event finishes or your bet runs to completion.
This adds another tactical dimension to your bet because you can lock in a profit (so eradicate the remaining risk), but that profit will be smaller than it would have been had your bet completed and won.
You can also use it to save a small portion of your stake if you turn it on its head.
So if you had a multiple on and two of your teams had won but the last was drawing at half time, you could cash out to save yourself from a potential defeat and 45 minutes of high blood pressure, locking in the profit as it stands. If your final team went on to lose or draw, brilliant, smart move. If your final team went on to win, well ok you could have won more but at least you won something.
This is a nice addition to the Betfred live betting service, and Cash Out is indicated where available with an icon showing a small grey circle surrounded by an incomplete red circle.
Cash Out availability is also displayed clearly on the bet slip which is also where you can activate it.
Casino Package
Like most of the big online bookmakers Betfred have a full house of games, casino, poker, lotto etc. In fact, there are so many different game categories that you could end up getting lost, and many of them come with their own sign-up bonuses attached too.
There's nothing missing here, with a full range of games including slots, roulette, blackjack, poker, live dealer table games, and even bingo. You might have to transfer funds from one account to another depending on what it is you are trying to play, but apart from this minor inconvenience, it's a worthy counterpart to the sportsbook.
Getting Help via Customer Services
In spite of accepting non-UK punters and offering a range of currency options, surprisingly Betfred support is only available in English. That's about the only place they can improve, however, since support is available 24/7 by freephone, live chat, email and Twitter. The Contact Us page plainly lists all of these details and more, and this is great to see because it gives the impression that they are happy to talk to their loyal punters; you need a degree to find the contact info at some bookies but not here. There is room for improvement elsewhere, though.
Betfred have a large FAQ section with a huge searchable glossary of betting terms to help you as well, shining a light on age old questions like 'What is pony?'. Annoyingly, the FAQ section itself is not searchable which feels counterproductive, and can make finding specific terms difficult. There is also some conflicting information between the FAQ, the T's and C's (which are loooong), and the Cashier, and this should be addressed immediately. In truth, the whole thing could do with a re-think, although they have tried to cover everything it isn't very intuitive to use. A for effort, C- for execution.
I don't want to be too critical because customer support is rated well at Betfred, and the huge number of long-term returning punters shows that they must be doing something right. The support agents are friendly and really well trained, especially when it comes to explaining all the betting around horse racing and the tote, which must take a lot of patience.
Is Betfred For You?
Betfred's greatest asset is their unrivalled horse racing package. You can watch every race in the UK and Ireland if you've bet on it and have access to full audio and text commentary too. There are also more offers around horse racing than with most other bookmakers, especially price guarantees, placepots and Lucky's. Oh, and there's also the tote which gives Betfred customers the ability to take part in pooled betting and enhanced jackpots in a way that other bookmakers simply can't match.
Away from racing and Betfred becomes more of a solid choice for the everyday punter who isn't impressed by modern technology and doesn't want to bet on anything too complicated. If you want a place to bet on normal betting lines on popular sports with solid odds then you will be fine.
Betfred are maybe not so good if you are looking for an ultra modern themed operator but they are definitely not stuck in the past, and with the hoarde of promotions they run even the more tech savvy punter might still find it hard to ignore The Bonus King.
Contact & License Details
Name: Betfred
Registered Company Name: Petfre Limited (Gibraltar)
UK licence ref/No: 39544
Customer Services: 0800 028 7747 (UK), +44 (0) 1925 878269 (overseas)
Customer services address: Betfred Online, c/o The Spectrum, 56-58 Benson Road, Birchwood. WA3 7PQ.
Phone betting: 0800 032 0878 (UK), 1 800 818 613 (IRE), (+44) 1925 878273 (overseas)
Text betting: Not accepted
Twitter: @Betfred and others
Registered company address: Betfred, Petfre Limited, 5/2 Waterport Place, 2 Europort Avenue, Gibraltar, GX11 1AA