Most of the betting sites that we list are long established and/or well known operators that can offer great value and features based on their size alone. The problem with this is that many operators have become very similar, which actually reduces choice for the punter. This is where NetBet come in.
This is a great betting site for finding deals that you simply will not get anywhere else. As well as providing fantastic offers that reward customer loyalty the brand is innovative, modern, and frankly more engaging than traditional bookmakers.
With a more European focus this is one of the best sites around for continental markets while still providing all of the sports and lines a UK punter would expect. It's a well-balanced site that would be a valuable addition to any portfolio.
Very Stylish and Modern – Superb user-friendly interface, a real pleasure to use.
Excellent Offers – Top betting site for rewarding customer loyalty with achievable offers.
Continental – One of the best for European markets & promotions.

Welcome Offer: Bet £5 Get £10
min odds 3/1 (4.00) / min 3 selections / free bet valid 7 days / T&C apply / 18+ / Begambleaware.org
New customers only T&Cs Apply, 18+ BeGambleAware.org / Gamstop.co.uk #ad
All About Your Banking Options
NetBet have got great choice when it comes to payment options, one of the benefits of using a bookie that serves an entire continent rather than just the UK. If you are gambling from within the UK you will be restricted to British Pounds (GBP) but if betting outside of this country there are a range of currencies available including Euros (EUR) and Dollars (USD).
Adding Funds and Withdrawing Winnings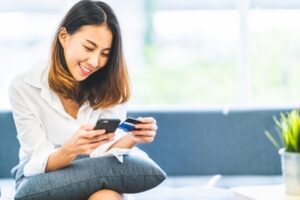 A list of available payment methods and limits is a breeze to find with NetBet so you know where you stand before you start and that's refreshing. I don't understand why some bookies make this so much harder than it needs to be.
Maximum deposits for some methods of payment is a little low which could frustrate those with deeper pockets, you can however make multiple transactions or contact support to make higher value deposits. Other methods have bigger limits but it depends what works for you.
Interestingly, in late 2016 NetBet became the first UK licensed betting site to accept Bitcoin deposits, although you can't currently do this anymore, but it may well change again.
There is a low withdrawal maximum of £40k in place per day, or £100,000k per month, but given the maximum winning cap of £20k on any bet this is unlikely to be a big problem really. Netbet isn;t the place to be making massive wagers.
It is worth noting that it can take NetBet a little longer to process a transaction so even if you withdraw to eWallets such as Paypal this could still take up to 48 hours to clear during busy times. It's mostly much faster than that, but they have set all of their time frame to "Up to 5 Days" as a standard, probably just to cover themselves on the odd time something goes wrong.
Win Limits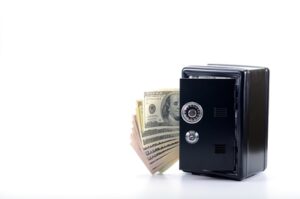 If you want to play at really high stakes then NetBet are not your bookie. Their maximum payout limits are decent, and certainly beyond the average bettor, but low when compared to pretty much any of the big brands.
This operator does not have sport specific limits but instead limit players by time period, and these are a maximum win of £20,000 a day or £50,000 a week. Basically, if you think your bets are going to be in this territory stick with a really big operator who will pay out up to £1,000,000.
Minimum stakes are very low at just £0.07 for pre-event bets and £0.13 for in play bets so betting is accessible to virtually anyone, but it's not a place for betting on outsiders for eye watering sums.
There are no maximum stakes as such but fortunately if your bet is likely to exceed the daily limit the bookie won't let you place the bet but will instead offer you a lower stake within the limits. There is also a maximum stake button which instantly shows you the maximum amount you can wager for each bet.
Interface: Style, Feel & Usability
The NetBet interface is brilliant and it really makes me wonder why some of the bigger UK bookmakers can't do better. In general, European bookmakers have far nicer websites and NetBet certainly fit into this category.
The desktop site is clean, sleek and super-fast. The general theme is made up of white and muted greys with small amounts of green peppered throughout to help certain information stand out and thus aid the user. In terms of layout it's the usual story with major options and features heavy across the top of the page and the interface itself split into thirds. It feels familiar and since it works so well there's no sense in being different for differences sake.
What makes NetBet individual is that they have struck a perfect balance of how much to offer the punter up front and how much to hold back, and this creates a lot of space without limiting options and creates a relaxed atmosphere. It also means, thanks the Gods, that scrolling is kept to a minimum.
Odds buttons and menu tabs are nice and big – if you end up clicking the wrong thing by mistake you can't blame it on NetBet – and the whole site is interesting to look at at the same time as being intuitive and helpful when necessary; for example hovering over certain icons will give information as to what they represent. Very handy for newbies.
Organisation and Filtering
This is where it could all fall down because without well designed categorisation features an online sportsbook can quickly turn into page after page of boring lists. Thankfully though, NetBet are more than up to the challenge and incorporate not only collapsible menu bars and favouriting options for personalisation, but there are also plenty of filtering options that make browsing busy markets the work of a moment.
For example, in a football match with 177+ markets there are nine different bet category filtering options; cards, players, halves, corners, etc. This cuts out a lot of time which is extremely helpful especially when betting in-play.
Sports Availability & Betting Options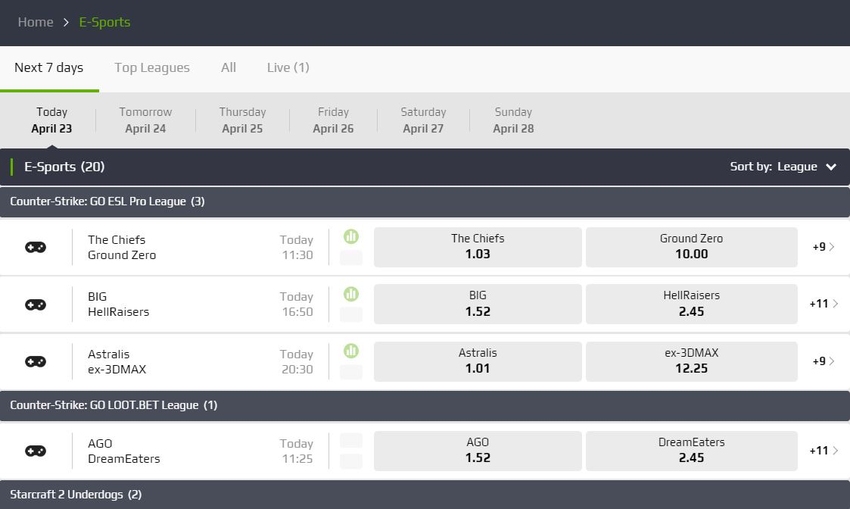 NetBet are particularly strong when it comes to depth of market in all European football and as a continental betting site you will also find sports like floorball, Gaelic Hurling, Badminton, Volleyball, Cycling, etc. This doesn't mean that you can't bet on traditional British sports too, with full coverage of darts, cricket, snooker, and the like, often with cracking promotions to go with it.
NetBet also have an eclectic mix of specials (Big Brother Nigeria anybody?) and are a recommended bookie for betting on eSports.
Activity from one sports market to the next can be a bit up and down, so where a market like Volleyball might be surprisingly busy you could find significantly less going on in Rugby than there is elsewhere, but overall there should be plenty for most of us.
One area where NetBet are not so strong is virtual sports, it's a good product in terms of quality and functionality but there are only three categories. It's probably not a place for hardcore horse and greyhound racing bettors either, although if you just enjoy the occasional punt you will be fine. They offer all UK and Irish races plus some international options, it's just not the main focus of the site.
Odds & Value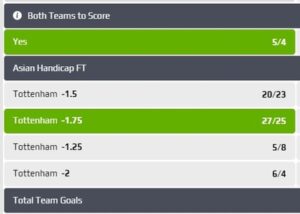 NetBet are about average for odds, however, they do lean more towards the higher end than the lower and for some lines such as major European football their prices can be very competitive indeed. The same goes when betting in-play. They also run regular price boosts on top markets and lots of cash back offers that mean you can still get great value from your bets even if the basic price isn't the best available.
Football, cricket and tennis have historically seen the most value in terms of basic odds, while racing odds aren't all that appealing.
As we always suggest here it makes sense to sign up to multiple bookies and then take your pick based on the price of the market you want to wager on and any offers available. If you use this approach you will probably find that you bet with NetBet more often than you would imagine.
Odds are available in fractional format as standard, with decimal and American also an option.
The In-Play Package Roundup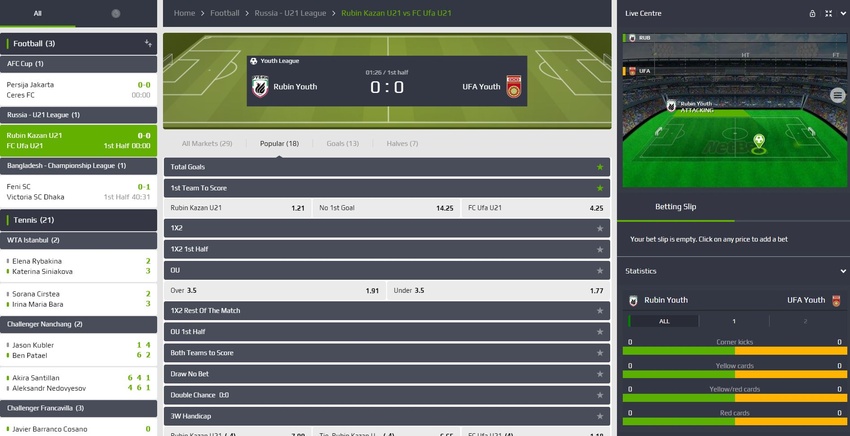 NetBet have a fantastic live betting service. The SBTech platform that the site is built on offers some of the best in-play features in my opinion and NetBet take full advantage.
Depth of in-play markets for major sports is as good as anywhere else and in fact, if you want to bet in-play on more uncelebrated sports such as handball or volleyball for example then this is one of the best services available.
The real beauty of this system is the interface design; even if you wear pint-sized glasses you will be able to find and navigate through the system and all of its features with ease. Punters can cycle through an overview, live schedule, live scores, and results all from within the single interface, before selecting a specific event.
In event view you will be able to cycle through bet types and categories, as well as use a great interactive match graphic that is full of detail. Less popular sports don't enjoy the same treatment on this front but that is standard throughout the industry.
Throw the in-play stats and the more comprehensive stats tool into the mix and you really do have everything you need to make informed and exciting live bets.
Live Streaming
No live streaming is offered yet from NetBet, so if this feature is a big part of your betting activity you might be disappointed. I really don't mind this though as betting sites need to make a choice as to where they put their resources, and with NetBet, the rest of the package has been developed to such a high standard you almost don't notice the lack of streaming.
As they continue to grow live streaming may well be added, and it would be a mistake (in my humble opinion) to miss out on everything else they have to offer because of this one thing. Remember also that there is nothing to stop you streaming though one bookmaker and betting with another – another reason to have several online betting accounts.
Cash Out
It is very much the norm now for operators to provide cash out. The NetBet Cash Out service is comprehensive, and available on all sports, markets and major events; they also provide partial cash out. Some two way markets such as total goals may be unavailable but this is fairly standard in the industry. Combined with the superb NetBet in-play feature cash out works very well.
If you haven't used Cash Out before it is really good fun and adds a tactical aspect to your betting decisions. Cash out lets you settle your bet prior to the completion of an event, the payout will always be lower than the one you would get if you allow the bet to run to completion but if you time it correctly you can end up a winner even if your initial wager eventually loses.
If you had a correct score bet on Huddersfield to win 2-1 and at 75minutes they were 2-0 up you could cash out, bag a (smaller) profit, and the bet is settled. If the score remained the same you would have lost your stake and won nothing. Ok, if the opposing team had got one back before the final whistle you would have won a bit more, but that's the tactical aspect – how likely was that looking?
Who Is NetBet-ter For?
NetBet-er. NetBet mashed up with the word better. No? Nevermind.
I think people newer to sports betting would find NetBet a good place to start. The site could never be accused of being confusing, there is even help along the way, but this isn't at the expense of any of the more intricate features. So it's a good place to grow into the industry from very little experience.
More experienced bettors will enjoy the fact that NetBet is different from the crowd. They haven't necessarily reinvented the wheel but they have enough little quirks and idiosyncrasies to make them stand apart and improve the overall experience.
They are definitely on the way up rather that down too and offer some fantastic promotions across the board. They are a perfect portfolio bookie rather than a one stop shop, and you will be glad to have them on your list.
Mobile Betting Roundup
NetBet have a really good app. I wouldn't quite go as far as to call it one of the very best but it's certainly close.
The app is easy to navigate for a start, with multiple options. A slider shows top sports as well as quick links to the days price boosts and a full A-Z can be found within the menu button; at this point sports can be selected as favourites for instant access. There is also a search button which can find events and leagues, although this requires a page reload which is a little counterproductive.
It looks good too. The mobile version follows the same theme as the main site so it feels like a quality product in the hand. They have done a fantastic job of downsizing a lot of information and many features onto a much smaller screen without sacrificing anything or compromising on space.
It's fast too once it gets going, and the delay in response time is unnoticeable 95% of the time. The live betting section is also rapid and does a great job of cramming a lot of markets into a small space whilst maintaining clarity. This is arguably one of the most important things to get right on mobile and NetBet's mobile in-play package certainly stands up.
It's also incredibly easy to switch between products. I'm not usually a fan of a single app housing both a sportsbook and a casino but NetBet seem to have found the perfect balance with this, so for any punter that likes to use both services this is one of the best apps around.
Online Casino: Reels, Cards & Dice
NetBet have a long casino history and if you live in mainland Europe you will be very familiar with the brand.
All of the great features that make the sportsbook so user friendly also apply to the casino and gaming section, and it's a busy section of the site.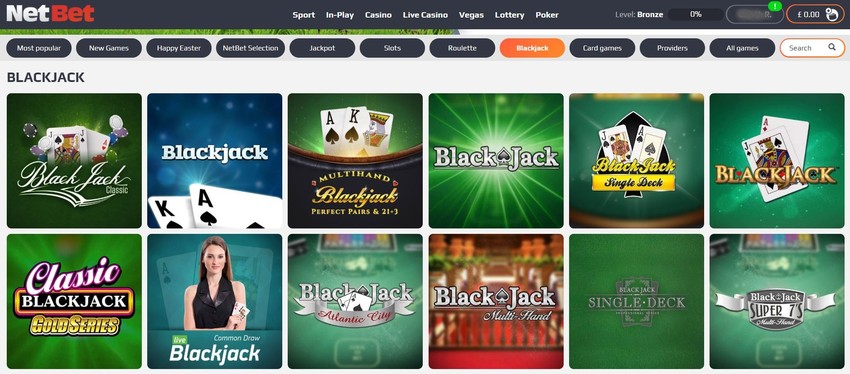 The number of games and slots on offer is impressive standing at over 1,500, and it spans the full spectrum covering slots, live casino, table games, lottery, poker, and jackpots.
NetBet casino promotions are also great with something always available to take your fancy, from free spins to cash back deals.
Customer Service With a Smile
It's mostly positive here. The help centre itself is one of the most user friendly and intuitive I have used. It's actually quite cool which is no mean feat for what is essentially a glorified FAQ.
Live chat, email and Whatsapp support are all offered and whenever I've used live chat it I've gotten an almost instant reply, then again I've never tried to contact them in the middle of the night. The only downside really is the opening hours, and even they aren't all that disappointing.
The opening hours of their customer support are 9am to 11pm (UK time). This is cut much shorter than most other big players but it still leaves plenty of time for people with pretty much any schedule to contact them.
Note: If they text you don't text back, it won't get to them, call them instead.
The NetBet site is available in nine languages and customer support is also multilingual. Agents are quick to get back to you and knowledgeable about the industry, bet types and best of all – their own internal procedures. This may seem like a given, but if you try some other online sportsbooks you would be surprised!
They did used to offer phone support which is currently down, but may make a come back.
More About NetBet
NetBet have more heritage than you might imagine. The bookmaker was founded back in 2001 and are owned and run by Netbet Enterprises Limited, based in Malta. Unlike many bookies based in Malta these guys have always been located there and have not simply relocated for tax reasons. By making their home in the ex-British colony of Malta NetBet are a completely continental bookmaker but yet also able to understand exactly what UK punters are looking for.
From the outset NetBet have marketed themselves as a multi-purpose bookmaker and they are renowned in Europe. The betting site is available in a multitude of languages and currencies with tons of different payment methods and funding options. The operator has largely gone out of its way to make itself as useful and as user-friendly to as many customers as possible in order to retain as well as attract them. In 2021 they recorded a 96.54% payout rate which probably doesn't hurt either.
Like many online-only operators NetBet have a longer history in the casino and games arena compared to sports. This doesn't mean they are lagging behind however. The NetBet sportsbook interface is far better than many of the big boys; in-play betting in particular is one of the clearest and easiest to use features I have seen. Another pull for punters seems to be the promotions which are not just regular but inventive rather than run of the mill.
If you have seen NetBet advertised in the UK it was probably through football. The betting site has sponsored many major European football clubs including West Brom, Hamilton Academical, St Etienne and Steaua Bucharest.
Contact & License Information
Name: NetBet
Registered Company Name: Netbet Enterprises Limited
URL: 

www.netbet.co.uk

UK Licence ref/No: 39170
Customer Services: +44 20 3608 6024 (Currently Down)
E-Mail: Form On Site or

[email protected]

Customer services address: Netbet Enterprises Limited, 209, Marina street, Pieta PTA 9041, Malta
Phone betting: Not accepted
Text betting: Not accepted
Twitter: @netbet (and others)
Registered Company address: As Customer Service.