10bet have one of the largest online sportsbooks on the internet and some of the best odds to go with it. A crazy 150 football leagues are covered with an extensive live betting service, streaming of several sports, and a commendable mobile app.
Regular offers and price boosts add extra value to already great odds, and the in-play service is a real find for the sports bettor who likes to do a little of their own in-game analysis.
The brand are punching well above their weight and have an excellent range of features that compete with the biggest sites, such as cash out (+partial), multi-match betting, fast markets, and more.
Even without all of this, 10bet would definitely be a good addition to any betting portfolio based on the markets offered alone.
For Proper Punters – This is no bit-part brand, they have everything the big boys have and often more.
Top Odds – If you can find better prices, especially on football, then you have done well indeed.
Down With The Kids – If there is a new betting feature out there then 10bet will be using it.

Welcome Offer: £50 Bonus (50%)
New Customers only; Min. deposit £15; Bonus amount 50% of deposit up to £50; Wager deposit and bonus 8x within 60 days; 4/5 Min. single odds or 2/5 min. acca selection odds; Max. stake contribution equal to the initial bonus; Certain bet types and payment methods excluded; See full terms
New customers only T&Cs Apply, 18+ BeGambleAware.org / Gamstop.co.uk #ad
More About 10bet
You would be forgiven for thinking 10bet must be a new upstart bookie as many bettors have never heard of them; however, you may be surprised to hear that they have actually been around since 2003, run one of the largest sportsbooks in the industry, offer their services in 90 countries, and are based in London for their UK operation at least.
10bet are the grey man of the gambling industry. Long established, successful in what they do, but they simultaneously manage to fly under the radar and are almost faceless to the gambling community.
To those that do know them, 10bet are famous for the size of their book, claiming to offer 65,000+ unique events every month, with high payout limits (at least £100k on a single event) and exclusive proprietary bet types. Their focus is on staying ahead of the game by utilising groundbreaking features as soon as they are available.
There is not much of a story to tell about 10bet, even the 'about us' section of the website is ambiguous. However, many people now prefer a faceless bookie especially in the world of online betting, and this is what you get with 10bet. The bookie did had a sister company in RealDealBet who are now inactive.  The company is licensed by the UK, Irish, Maltese and Swedish gambling authorities, and owned by Blue Star Planet Limited (a company registered in Malta). They employ over 200 staff and have offices dotted around the world.
What Sports Can You Bet On?
The cat is already out of the bag. When it comes to sports markets 10bet are simply fantastic. With a reported 100,000+ events on the site at any one time, 150 world football leagues to choose from and around 35 other sports markets you would be hard pressed to find a better sportsbook. The range and depth of football markets is simply stunning.
It doesn't stop there, because 10bet also offer a huge range of over 2,000 bet types including proprietary lines. That means you won't find some of the bet types available at 10bet with any other bookie. Relative to their size, this is hugely impressive, and is enough to leave the gambling industry giants looking nervously over their shoulders.
You can also bet on non-sport specials, novelty bets, politics and the like but it is hardly their speciality. This is a sportsbook primarily so if you want to bet on Lady GaGa's next hair cut then look elsewhere.
10bet do however have a great looking virtuals package – although it could do with one or two extra sports – and cover eSports in far more depth than most other online bookmakers, it's rare to see so much choice in this category.
Odds Value and Prices
10bet are good in general for odds but a real selling point is how early they will publish them ahead of events. This can sometimes allow you to jump the gun on others in the industry and get your bets on before odds start coming in. The depth of market offered by 10bet also means this is one of the only places you can get odds on some betting lines.
Sports where odds have been particularly attractive in the past include darts, football, basketball, boxing, and hockey. Horse racing odds can vary a bit more but they still tend to sit above the middle of the table even at their lowest.
There are price boosts available every day with 10bet, but these are minimal compared to some other bookies although it has been improving in recent times. They tend to be offered particularly on football and on big events.
Other promotions run regularly, often based on will they/won't they match stats and often promising free bets. They have also been known to run promotions in the case of a bore draw, or a horse losing by a head – covering times when you only just missed out basically.
10bet offer odds in fractional, decimal and American formats all of which are easily changed on any screen, and if for some reason 10bet don't have the betting line you want you can always request odds directly.
Website: Any Good?
The 10bet site is powered by SBTech (which is owned by DraftKings) and that makes it cutting edge in terms of features and functionality. Make no mistake, this is a website at the head of the queue when it comes to the latest technology.
The whole site follows the same pattern, with an A-Z ever present down one side for quick navigation between sports categories and the leagues/competitions within, your betslip on the other side, and the larger central section of the page reserved for the events and bets themselves. This is a standard layout so feels instinctive to use, and the simplicity of the whole thing makes the site lightning fast.
10bet really push their in-play capabilities, and the homepage ties into this, with live, upcoming, and highlighted events of the day displayed by default, as well as quick links to currently popular markets. There is also a nifty search bar that can intelligently find a specific event for you. In reality, it shouldn't take more than 10 seconds to find the game you are looking for.
The site uses collapsible header bars to aid organisation and keep things tidy, giving the punter at least a little control over what they are looking at, and from one sport category to another you will be able to list events by popular events/leagues, live games, a daily list of fixtures, or you can view all leagues in that sport and browse from there. This provides every option to do things in the way that suits you.
Appearance
To coincide with their 'grey man' persona, the site itself is based on a colour scheme of soft greys and whites, with the occasional touch of pastel greens – to indicate selections for example. Other colours are used in advertising but only sparingly.
By some miracle this doesn't feel dull, instead it comes across as simple and quite calming. It also has the added benefit of making all odds and text extremely clear to see, so the bettor can optimise their time on the site.
Every section enjoys plenty of personal space so even though there is a lot on display it never becomes overcrowded and no one section ever encroaches into another's territory.
Betting In Play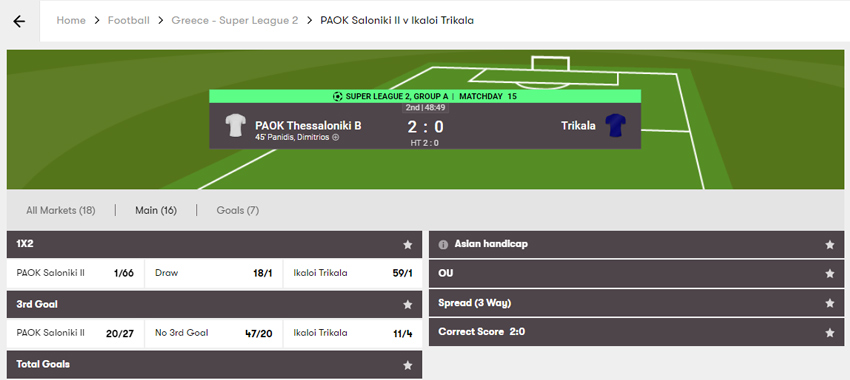 Whatever you think about the stark in-play interface, you have to give 10bet credit for the size of their live betting feature. They offer virtually every in-play market they can, including all those relatively unknown football leagues. As I write this at 11am on a Wednesday morning there are over 100 live events to bet on, at busy times like a Saturday afternoon this can swell to hundreds and hundreds of markets.
This could be a bit of a nightmare if it wasn't laid out in a helpful way, especially for busy categories like football and tennis, but luckily it is possible to view events by sport and then by league, and you can hide anything you aren't interested in which makes things easier. There's a handy schedule too which you can filter by sport and date in order to plan ahead, but it would be doubly useful if you could 'favourite' certain events and have them all stored in one place. You can do this if the game is already in-play.
When you click on event you can see the huge depth of market available. You can categorise these to some extent (goals, main, fast markets, corners) but a few more wouldn't hurt. At least it's clear, and you can still keep an eye on all other in-play games in the side-bar which can be extremely helpful.
A good level of match stats and text commentary are available in the event view, and the match tracker is quite honestly the best I have seen, there is so much detail right down to plotting where freekicks and shots on/off target have occurred. This is good news since they seem to have done away with their in depth stats service that used to be so brilliant. The match tracker can't stand up to a proper stats service but it's particularly useful for betting on those obscure football leagues you may know very little about.
10bet also have unique features for live betting that not many others have like the pulse bet (very exciting short term bet) and other fast markets. These are designed to enhance short term excitement and change all the time.
The 10Bet App: Does it Make me 'Appy?
Aesthetically the mobile app is no improvement on the main desktop site, but operationally it functions just as well. Although this is one of the rare cases these days where the app and the mobile site look different.
The top sliding menu bar gives quick access to major sports, and the search option can be found in the same place on the mobile site, but you need to swipe right for the menu to find it in the app. Either way, finding your bet should be the work of a few seconds at most, unless it's something a little more obscure.
If that is the case then the A-Z is contained within the Menu button but they should really have tried to break this up a little, they have put the top sports first and listed the rest in no discernible order which is confusing, especially since top sports can be reached more easily from the sliding menu.
Like the main site the app is built with in-play betting in mind, so live events take centre stage, and there are some intuitive little touches like a tab that can take you to the top of the page if you have been scrolling for a while. Scrolling is unavoidable with the depth of markets at 10bet, even with some clever innovations to collapse unwanted markets, so this little button is a Godsend.
Nothing is lost from the in-play experience by using the app, all of the stats and the match graphic capabilities have been carried over and work just as well. The app is very responsive and punters can nip from one section to another in no time, making betting on multiple markets a breezy experience.
There are a few spots on the footer menu and quick links taken up by gaming or casino options which could have been put to better use in my opinion, but overall this app is one of the better ones. There is room for minor improvements but it's a case of tinkering with what is already there rather than a big re-think.
Casino Fun & Games
10bet have long provided a casino in Europe and for those that like to pop across for a spin of the reels or a quick table game then you will be pleased to know that 10bet now provide games, a casino and live casino for UK punters as well.
The existing casino operation has been re-purposed for the UK and this means the whole system is completely functional and fully debugged from the outset.
Both the casino and live casino are great to use. Both have great depth, as you would expect from looking at their sports book, and the content comes from some of the most revered developers in the industry.
USP in 172 Words
Sportsbook, sportsbook, sportsbook. Without the huge number of markets that 10bet offer they would hardly get a look in. It's colossal. Not just that but it is backed up with consistently favourable odds and a pretty smart in-play package.
If you want your bookie to be a bit of a looker then 10bet may not catch your eye, but we all know you shouldn't judge a book by its cover. The site is brilliant at what it does, and it won't take you more than a few minutes using it to appreciate that.
Anything that could count against 10bet is quickly offset by something else that makes up for it. As an example, the comparative lack of offers and enhanced odds could be seen as a black mark, but the odds are so good that it doesn't really matter.
This is a bookie for proper punters. They make sure they do a sterling job with the fundamentals and then back that up with a few snazzy extras. Perfect for the discerning bettor.
Which Payment Methods are Available?
10bet have a slightly better than average number of deposit and withdrawal options, everything the average punter would need is an option. You can bet in 7 currencies but only Euros (EUR) and British Pounds (GBP) from the UK site. The site is available in several languages but is geographically linked, so if you are in the UK you will be stuck with English.
Making a bet is as easy as can be; click on the odds you like the look of and it will instantly appear on your betting slip. From there you can play with your stake and see potential returns as well as put together any multiples and manage any open bets and cash out options.
You can use the same account to bet via mobile, however, no telephone betting service is offered and as an online only offering there is no option to use cash in store.
Deposits/Withdrawals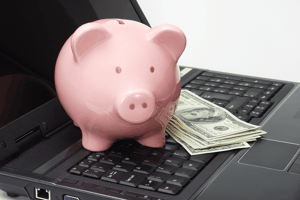 Deposit limits could be a little lower to keep things friendly for those of us who stake lower amounts, but all deposit methods are free at the 10bet end.
Maximum deposit is generally £50,000, but this is a transactional limit and you can make more than one. If you are depositing more than £50k it is best to contact them in advance to tell them to make sure it all goes through smoothly.
You should also check any initial deposit bonuses are available via the payment method you intend to use. For example, sometimes Skrill and Neteller are exempt and you wouldn't want to miss out.
You can withdraw using most of the same methods you can use to deposit, and while withdrawals are free you may incur costs from your bank for wire transfers.
Withdrawals to e-wallets might seem a little slow at 1-2 days, but this is a maximum time frame and they will usually go through very quickly.
Winning & Betting Caps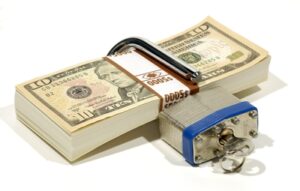 Even placing a small wager on single lines or multiple bets with high odds could bring you close to maximum payout limits, so if you thought this only applied to the already wealthy then think again.
Online bookies have vastly different payout limits, so don't let your once in a lifetime win be tainted because you didn't read the terms.
Minimum and maximum betting rules are relatively easy to find with 10bet compared to some.
The minimum bet is stated in the terms as £0.10 (although it is possible to bet as low as £0.05) and the maximum bet is determined by the maximum payout.
The maximum payout at 10bet is actually not that high compared to other UK online bookies but at least the terms are very clear. You can win £100k in any one day, this is cumulative across all bets completed in that 24 hour period.
This is a different approach to other bookies who tend to state max payouts per sport and bet type, but if that sort of information is available from 10bet then I wasn't able to find it.
Need a Hand from Customer Services?
10bet provide customer service 24 hours a day 7 days a week through live chat, Freephone and email. What's more, all of the contact details are a piece of cake to find on the website. This is exactly what we like to see from an online only sportsbook, and it shows that 10bet are being open and honest with their customers.
Staff are friendly and knowledgeable, and very quick to solve issues or answer questions – unless you ask them questions about 10bet itself when they become very secretive!
There isn't a dedicated postal address for customer services anymore but this is becoming a frequent occurrence across the industry nowadays, and while there are social media accounts they are aimed more at promotions and engagement rather than support.
The help section and FAQ are one and the same, and contain plenty of information on betting rules, bet types, and T&Cs, but it could do with a search option as you could end up reaching a few dead ends before you find what you are after. It's great that this is built into the site rather than opening a new window though; it opens in a bubble in front of the interface and keeps things nice and neat.
License and Contact Details
Name: 10bet
URL: www.10bet.co.uk
UK Licence ref/No: 43173
Registered Company Name: Blue Star Planet Ltd
Parent Company: Comfortlink N.V
Customer Services: 0800 047 0965 (UK) +343 14-372-476 (ROI)
E-Mail:

[email protected]

UK address: 10bet Limited, The Shard (Office Number 2510), 32 London Bridge St, London, SE1 9SG.
Phone betting: Not accepted
Text betting: Not accepted
Twitter: @10betSports
Registered Company address: Dragonara Business Centre, 5th Floor, Dragonara Road, St. Julians STJ3141, Malta.