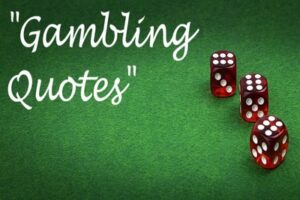 Gambling is an activity that many people enjoy in their spare time, with many of the sayings and phrases that you might associate with it being filled with expletives.
Thankfully, far more eloquent people than you or I have enjoyed a flutter in the past and have been able to put into words what many of us will have thought at one time or another, so we can turn to them for inspiration.
Of course, many of these quotes have simply adapted into the lexicon of modern day speech, meaning that we rarely, if ever, consider where they came from.
Why did someone advise someone else to 'quit' whilst they were 'ahead'? Who was the first person to suggest that someone else is 'a card'? In some cases it's almost impossible to track down an answer, but that doesn't mean that the saying is any less used.